Susan and I braved any unstable air masses, cold temps, and dark clouds for a walk that turned into a five miler, with a break halfway for a brunch at the new Flor Morena Fine Foods restaurant that opened in Silver Lake a few doors down from the Edendale Grill on Rowena where it meets Glendale Boulevard.
What a wonderful little place it is, in a great location with ample space for customer parking (a factor that almost guarantees its success). On the way there, from the west side of the Silver Lake reservoir I got a couple shots of the San Gabriels well-dusted with snow that yesterday's storm brought down to some pretty low levels: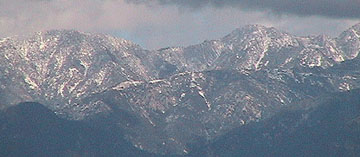 At Flor Morena, Susan opted for the chorrizo burrito while I just said what the hell and had their Monte Cristo sandwich. If anyone out there has never had a Monte Cristo, good for you. Just understand that it is one of the most healthless and decadent and calorie-laden things ever. Imagine turkey, ham, cheese, butter and mayonnaise between two thick pieces of bread, with the whole thing dipped in an egg batter and fried up french toast-style, then dusted with powdered sugar and served with a side of maple syrup. If they sound horrible, they're not. They're just horrible for you.
Anyway, this is what Flor Morena's looks like… smaller than some I've had in the past, but just as tasty. To my credit I used only a smidge of the syrup. But yes, I even ate the somewhat incongruously included dill pickle spear.
In accordance with logging everything I consume, I scoured the internet for any sort of caloric measurement and the only thing I found was mention of one topping out at 1,324 calories with 53 grams of fat. I'm not so sure mine was thaaaaat much, but I went with it.
Afterward, we took the long way home and headed across Rowena to Hyperion where we stopped at Trader Joe's for various foodstuff, which I then dutifully carried the rest of the way home (and promptly put on a scale to see that the bag weighed 12 pounds).
Tomorrow morning, the Phoenix and I bike ride the Griffith Park loop! Pix to follow.