Not a lot going on and don't really have a whole lot to say, so instead I send you for a ride in the not-so-wayback machine — August 8, 2004:
An excellent lazy Sunday morning included the decision to go see a matinee of "Collateral" at the Dome and gave way to a walk with Shadow up Sunset to Millie's for breakfast. But not before getting a call from Minnesota and Stan who had called me on Friday about the 4Runner.
Actually it was Stan's wife Sue who had called and left a message that they were good to get the truck for $4,000 but couldn't pick it up until Labor Day and to please call her back so that they could arrange a deposit.
Still hesitant, I told Susan about it and asked her opinion. She agreed that a nonrefundable deposit of 25% was fair.
So I called Stan back and was upfront with him. I offered to take more pictures of the truck (under the hood and throughout the interior) and send them to him or post them on a website that he could see, but he said it wasn't necessary and that the truck is exactly what he's after and was good to go with sending me a thou with the plan to pay me the rest when his niece and nephew fly down to pick up the truck at the end of August/beginning of September and drive it back to Minnesota.
I guess I place a good automobile ad. And while I told him I had done nothing to misrepresent the truck and that it was a solid vehicle, to myself I hoped the truck would make that trip. After all, it is a 17-year-old thing that for the last five years has been driven by my mom to the market and post office and home depot. Suddenly throwing it on the highway for 1,000-plus miles over a few days might not be to productive.
Bottom line, I gave Stan several options to take breather on the deal, but he's gung-ho — which of course, leaves me wary that I'm potentially being played. Some how.
I reiterated that in agreeing to take the truck off the market for the next three weeks, the deposit would be nonrefundable should he change his mind, and he was good to go with that as well.
So we'll see if that check arrives. And clears.
Back home, I reclined in the window seat with "The Black Dahlia" while Susan gave her new guitar a try and it sounded great.
At 2 p.m. we headed over to the Arclight and greatly enjoyed "Collateral" so much so that in a sidetrip across the street to Borders to pick up "Watership Down" for Susan, I snagged the soundtrack (primarily for Groove Armada's "Hands of Time" being included on it).
A stop at Vons on the way for kabob materials and we were home again, where I later suffered my first grilling accident: burns across my right thumb, index and middle fingers when I brainlessly and with my bare hand picked up a skewer to flip it that had been on the 450-degree grill for several minutes.
What a moron. With a capital idiot!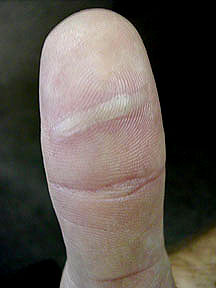 It's one of those burns that doesn't quite hit you right away so there's that glorious split second when reality catches up with you and you're staring at your hand mouthing "Oh fuck!" before the searing sensation registers.
Proudly, I was concerted in my effort not to just drop the skewer off the grill. I actually sacrificed my digits to save the kabob. Hold your applause.
Immediately I put death grips on several ice cubes to numb the pain, and after the second one melted away I got a good look at the rapidly puss-filling damage. That's my thumb there, pretty obvious where the skewer seared right across some prime nerve endings. The middle finger's even worse, but I'll spare you.
But I'm not the one to let a little third-degree self-sizzling get in the way of my duties and I'm pleased to report that the kabobs were kafab.
Night was occupied with a viewing of "Miracle Mile," an oddball film from 1988 that starts off as a love story and ends in nuclear annihilation.