Ahh but I love how the internest brings us together from all walks of life. Checking my WordPress dashboard this morning I find a comment to a post titled "Pupdate No. 1" written July 20, 2006, reflecting on our first week with the four pups we rescued in Utah while on vacation that month.
Like most comments to old posts, I click on it thinking it can't be anything more than spam, but instead I find the comment is from one Katherine Von Drachenberg, who writes:
"I Googled for something completely different, but found your page…and have to say thanks. Nice read."
I suppose I run the risk of getting fished in and it in fact being spam of some sort, but what the hell; I replied in the comments thanking her for reading then I clicked on the link to her name to see where it led, and I found out. Dang. Perhaps I can blame my age, my unfamiliarity with the rarefied world of tatoo and its practitioners, or my lack of diverse television viewing as being the reasons why I'd never heard of Kat Von D, but a lot of other people have and it's nice that a little Google misdirection brought me to her attention and her to mine.
The young lady's got 486,016 friends on MySpace. She's apparently quite the up-and-coming artist , boosted primarily by her unique talent with a needle on skin but also perhaps by her connection to Bam Margera of "Jackass" fame and moreso by her place first on the TLC show Miami Ink, and now its spinoff L.A. Ink, coming in August.
It's as close to a celeb encounter as I've ever had here at my humble little e-bode and I'll can my skepticism and just appreciate Kat for dropping by and saying hi.
UPDATED (6/25): Nah, it's spam after all. I got a comment this morning to my year-old post about the Franklin Avenue meet-up at Coles from an "Interior Lighting" whose ambiguous praise just screamed spam. What connects the two is not only that they're formatted exactly the same way: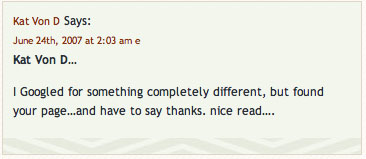 But it's linked to the same generic type of dot-info webpage as Kat's. On top of that the IP addresses of both comments originate from the same Atlanta, GA-based service provider Pffft. Cullah me gullahbah.