I've begun the process of orchestrating and augmentating the promotional materials and logistications for the semi-notorious and entirely fictional IAAL•MAF bike conglomeration's fifth spinviational duly dubbed the "Serenity Now" ride: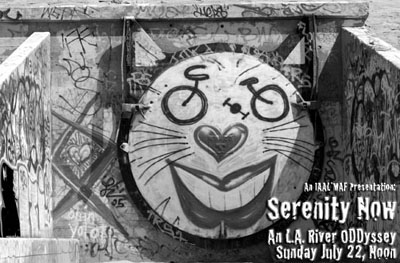 T'will be a casual roll July 22, beginning at noon from Travel Town in Griffith Park. From there the ride will traverse to the L.A. River Bikeway and then continue on surface side streets south of Fletcher through Elysian Valley with an emphasis on and awareness of the river's history, wildlife and its aspect as an eye-catching and ever-evolving art gallery. The halfway point will be the oasis that is the L.A. River Center and Gardens for some rest and recumbancy before returning back up river to Travel Town.
So mark your calendars kids and stay tuned for more information. This is going to be a fun and flat 16-mile tour of discovery for all ages that will hopefully learn ya something new about our river or at least grow your apprecation of it a little bit.