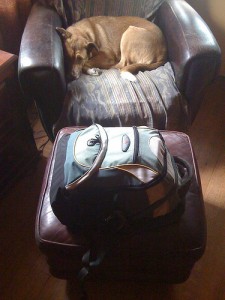 My bag is packed and I'm ready to go… car-free to my biz-related destination in Newport Beach, baby!
The fully-loaded pack in the foreground (mopey dog included for scale and awwwww) tops out at 20 pounds, inside of which is a laptop, various chargers, cables and accessories, 2 pairs pants, 2 shirts, 1 sweater, 1 spare bike shirt, 1 pair shorts, 1 tee, 1 belt, toiletry case with assorted essential toiletries, requisite underwear/socks, 1 pair dress shoes, cable lock, multi-tool, additional tools, first aid kit, wallet, iPhone, and other minutae.
Let's hit it! I'm on to Union Station for the Metrolink to Santa Ana then a shimmy over to the Santa Ana Bikeway and about 15 miles later (not including a sidetrip across to Balboa Island maybe), I'll be checking in at the Hyatt.
Hope they let me keep my bike in my room!