So here's how my hairy upper lip looked just prior to its execution on the morning of December 1: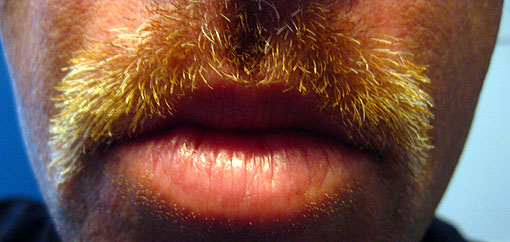 The above moodily lighted moustache was cultivated throughout the previous month as I participated in the annual Movember movement to raise awareness of men's health issues and funds for cancer research.
I had an easier time growing the thing than I did growing donations, and want to thank my beloved wife Susan and my fantastic friend Michael Baffico for answering my calls to contribute. All told my relatively weak collection efforts consisting of this previous post here and a couple tweets on Twitter yielded a total of $195 — $20 of which was mine. Overall efforts of my Movember team, dubbed The Hair Force and led by my coworker Chris, topped out at $1,775. Way to go, team!
It was fun watching the thing take shape, but I won't lie: I was happy to see it go and get my upper lip back to normal. I'd done the moustache/goatee thing in the past, but never just the 'stache, and I learned I'm just not much for it. That said, I would probably have kept the 'stache until December 4 if it and I had been available to attend the Movember celebration party scheduled that evening at The Avalon in Hollywood, but since I'll be enjoying Susan's office holiday dinner instead, out came the razor Tuesday morning and down the drain all them hairsesses went.
Perhaps until next year.