Not sure if you were playing along, but last Thursday I decided to make a bit of a guessing game over on L.A. Metblogs out a half-gallon glass jug full of coins collected over the years that I'd decided to take to the nearest Coinstar kiosk this weekend.
With readers' answers ranging from $12 – $163.11, Susan and I drove the treasure trove over to its destiny Sunday afternoon, which revealed the final tally to be $87.84 in the form of 2,262 coins in the following denominations:
1 Susan B. Anthony dollar
1 half-dollar
106 quarters
290 dimes
305 nickels
1,559 pennies
Five coins were rightfully rejected, including three from Mexico totaling 650 centavos, and one MTA bus token ($1.25 value, FTW!). Lastly was this badly beat-up and scarred fellow: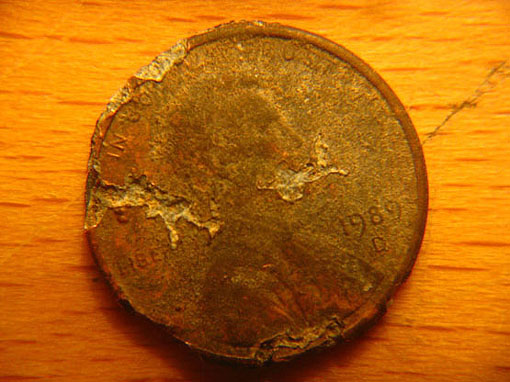 This unfortunate coin was the sole member of its large tribe that Coinstar threw back despite repeated submissions. Oh well, one's rejected cent is another's lucky penny.