All this discussion over at The Eastsider LA blog about recent enforcement of leash laws in Elysian Park and wouldn't you know I happen to look out the window at the exact moment a gorgeous young and totally loose Alaskan malamute goes trotting down the street. And when I go out front the rambunctious and friendly beast comes back to me when I whistle to him. No collar/tags. Agh.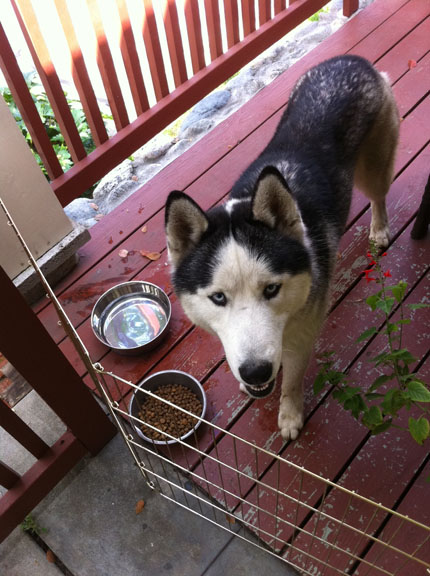 So now I've put the word out on a neighborhood Yahoo group and via Twitter (and now here) hoping his owner's out there somewhere nearby for a reunion soon because I really don't want to have to call Animal Services for this handsome fella. I think I'll take a break see if Ranger's old collar will fit and go for a walk around the block with him.
UPDATE (2:30 p.m.): Long walk. No luck. Sigh.
UPDATE (7:03 p.m.): Another long walk pretty much cemented that the dog is not from around here. A neighbor one street over told me he saw him walking earlier down near the 101 Freeway overpass at Benton Way. The big guy could be from anywhere. Unless by some miracle someone responds by tomorrow morning, the next step is Animal Services.
UPDATE (10:47 p.m.): I'm sitting here staring at this big beautiful beast at ease and asleep on the floor beside my chair like he's  home and while I'm so happy to have been able to come to his aid and give him food, comfort and safety, I'm sad both for whoever I'm sure must be missing him terribly and for most likely having to turn him over to Animal Services tomorrow… done in the hope he is microchipped and can be reunited with his people.
UPDATE (2/25): Twitcast finally completed processing an iPhone video of the dog made yesterday after the second walk: http://twitcasting.tv/wildbell/movie/1126284
UPDATE (2/25 10:30 a.m.): LA Animal Services is now in possession of the dog and my hope it is chipped and can be reunited with its guardians, or if not with them, adopted into a new home.
UPDATE (2/25 3:19 p.m.): According to the shelter representative, the microchip scan came back negative. Shit.