After posting yesterday about the long-missing vintage watch rather accidentally found as a result of a plush toy rescue, I brought out its matching partner for a reunion and then did a little e-digging to find out more details about the dynamic duo.
To accomplish that I had to remove the mechanisms from the cases in order to get at the identifying numbers, and I managed to do so without damaging the delicate devices.
A most intriguing part of that was getting closer looks at the engravings on the insides of the cases — not just the maker's stamp, but if you look closer there are several others appearing to be hand-etched either indicating the various craftspeople involved in the building of the watch and/or any repairpersons who serviced it.
I learned via Pocket Watch Repair Dot Com (http://www.pocketwatchrepair.com/histories/longines.php) that the watches' serial numbers corresponded with a manufacture approximately in 1951.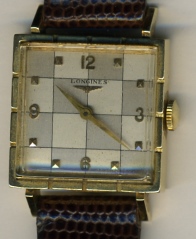 Then from Vintage Watch Resources Dot Com (https://vintagewatchresources.com/longiness-year-identifier/) I found that the model closest resembling mine was called "King" with the smaller version called "Queen."
The primary difference in the King model shown (at right) on that website is the chessboard pattern of the face whereas the faces of mine are both monochromatic. I suppose that may be due either to a different model year or possibly to fading over time, but the latter seems unlikely. I've been familiar with these watches since the late '80s so if any such change occurred it was well prior to that, and I'm pretty sure my stepdad kept these watches stored and not exposed to any elements that would cause such a change.
Of note Vintage Watch Resources lists the watch's original price as $405. In 2020 dollars that equates roughly to $4,020. Cha-ching!