"Acanthus mollis, commonly known as bear's breeches, sea dock, bearsfoot or oyster plant, is a herbaceous perennial plant with an underground rhizome in the genus Acanthus." — Wikipedia
Our dependable patch did something very unusual this time around in sprouting its leaves in November. Typically it doesn't emerge from the otherwise barren soil at the landing atop our front yard steps until February, January at the earliest. So when it started to rise shortly after Halloween, I shook my head, expecting those leaves to die off.
Except they didn't. They just kept going and going and going thick and lush until at this point (coincidentally later than as is usual), the leaves have begun to yellow, signalling what would and should be a typical rapid decline that ends with me chopping it all down and looking forward to its return next winter.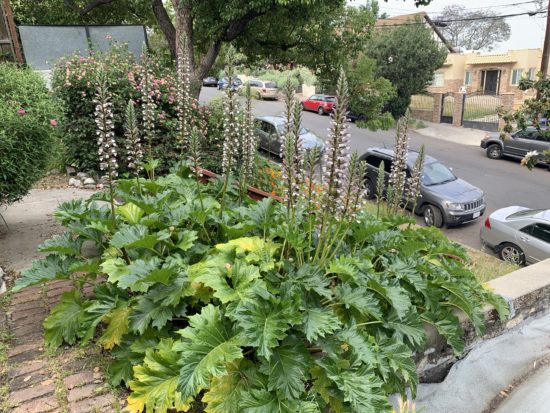 As such, I figured it was best to document what has been the absolute best bear's breeches display in the 16 years I've been marveling at the unique perennial.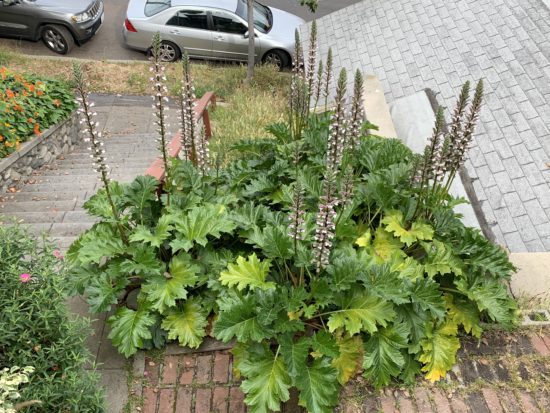 I was blown away last year that it had produced a record 26 of those flowery stalks, but this year's total eclipsed that big time. There's 31 up, with the tallest being more than six-feet.
The blooms have no discernible fragrance and according to its Wikipedia page pollination occurs only by bees or bumble bees large enough to force their way into the flower, so that they can reach the nectar at the bottom of the tube.
With our patch there's always a fair amount of the oval-shaped fruit that results containing two to four large black seeds.