Drugs? Porn? Murder? Long after fame and fortune fled, a pop culture icon winds up dead. Here's the cautionary tale of Gumby's dark and downward spiral.
By William Campbell
March 6, 1999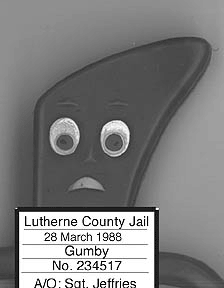 Gumby once was a little green slab of clay. At least, that's how the theme song to his 1967 TV show goes. But beneath that colorful and resilient exterior lurked much more that was much different from the character beloved by millions of children and adults all over the world.
Fame, of course, is fleeting. And while once Gumby stood atop the world with the brass ring fully in his grasp, he did not stay there for long, and his downward tumble from that lofty perch took him headlong into a drug-filled descent into the depths of despair and depravity.
By all accounts, it was a painful journey, and one that came to an end February 29, 1999, in a seedy motel room in downtown Las Vegas where police said they found his lifeless body dangling from a shoestring tied to a ceiling fan.
"Our preliminary investigation points to suicide," said police spokesperson Nathaniel Detweiler. "An autopsy will be performed to confirm this."
In the interim, officials are remaining tight-lipped about the scene of the crime and the circumstances surrounding Gumby's death, but this former reporter has obtained information and documentation from an anonymous, well-placed source within the department, who indicated that there's little doubt Gumby brought his life to an end.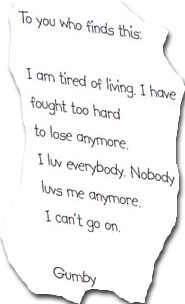 "First off, there was the note found on the bedside table, beside a vial containing what's been identified to be residual cocaine," the source said. "Next, the motel manager, who had a clear view of Room 216 the entire time after the deceased checked in, witnessed Gumby enter the room alone at around 2300 hours February 28 and never once come out."
Having obtained a copy of the alleged suicide note, this previous journalist contacted Peter Montblanc, a nationally recognized handwriting expert, to examine it.
Montblanc said he was positive not only that the note was written by Gumby, but that it clearly indicates a deep level of depression — even denial.
"Note the downward slant from left to right, of each line," Montblanc said. "This is clearly someone who has lost his will to live, and yet the tone of the note seems to place the blame elsewhere."
And the police source concurs.
"This was a guy at the end of his rope, so to speak," the source said.
So he put what he had left around his neck and ended it all and blamed it on a world that had long ago given up on him.
Thus, sometime between 11 p.m. February 28 and noon the next day, the life of a cultural icon was over. But the story isn't — by a longshot.
Other than a few short obituaries, the story was virtually ignored by the media. Certainly no one thought to focus on the long drought that extended from Gumby's days after the end of his television show, and his unsuccessful efforts to revive his career. And no one sought to dig deeper into that period of his life to discover what really went on.
Wildbell.com did. And it's certainly not pretty.
Interviews, police reports and eyewitness accounts have uncovered not only the lurid details of a good 'toon gone bad, but also the untold story behind the dimming of Gumby's bright television career. It all adds up to being a long distance freefall from grace, a shameful tale of missed opportunities, bad advice, drugs, sex, hopeless desperation — and even perhaps murder.
THE END OF THE BEGINNING
Though involved in one way or another with Art Clokey productions, since 1955, Gumby's career clearly crested with his 1967 series, which was syndicated the following year after a tumultuous break-up brought on by Gumby's increasingly erratic behavior and jealous accusations that Clokey was purposefully sabotaging his career in order to further those of the stars of Clokey's other series "Davey & Goliath."
Clokey, pictured at right, directing his star in "Moon Trip," declined to be interviewed for this story.
But Davey, now a retired congressman living in Sarasota, Fla., who spent three terms in the House of Representatives, vehemently opposes anyone who believed Clokey sold Gumby out.
"Me and Goliath [who died in a car accident in Texas in 1978], knew that Art had a lot of love for Gumby – heck, we all did! He was our idol!" Davey said, "But there was no proving it to Gumby. No matter what Art did to reassure and comfort him, it didn't work. Gumby used to storm the 'Davey & Goliath' set and interrupt filming with his horrible temper. It was a side of Gumby I hadn't seen before."
Few had.
Eve Prickle, who worked with producer Art Engel at 20th Century Fox — the man who originally approached Clokey about doing the series — said that Engel and Fox worked overtime to keep Gumby's image squeaky clean before the public.
"Even back in the 1950s," Prickle said, "Gumby was a grasshopper – smoking marijuana whenever he could get his hands on it."
She said Gumby was even arrested once just prior to the release of "Moon Trip," the film that started it all back in 1956. A search yielded no records.
"That's because Fox had the judge expunge the documentation," she said. "They knew Gumby would be a big hit, but not if he was a known hophead. It was all very hush-hush, and certain powerful people got paid to keep it that way ."
But by the end of 1967, you couldn't pay Clokey enough to continue to work with Gumby, whose paranoia was only matched by his out-of-control ego, Eve said.
They called it quits for more than a decade. All the while the syndicated episodes played over and over and Gumby's popularity grew. Residuals and personal appearances kept Gumby in the fast-lane lifestyle to which he'd become accustomed. But the pressure continued to be applied for the two to reunite and do another series. Eventually, they gave in and Clokey and Gumby got back together in 1979, reportedly having resolved their differences before going to work on a new — and short-lived — "Gumby" series.
"It was doomed at the start," she said.
With the heat to succeed mounting, things quickly soured between the two, said co-star Goo who played the little blue mermaid first introduced in 1967. In 1979, she was living with Gumby in New York at the time.
Clokey a dedicated workaholic and perfectionist had became increasingly upset at Gumby's lackluster work ethic.
"It's true, Gumby would show up on the set late — sometimes drunk or stoned," Goo said, in a phone interview from her hometown of St. Louis. "By that time [in early 1980], Gumby was up to his knees in heroine and cocaine. And he was going behind Clokey's back to the studios trying to cut a movie deal. Gumby was certain he didn't need Clokey in order to make it on the big screen."
When Clokey found out, he was livid, said Ray Peck, a longtime writer for the show.
"Art had it by then. He phoned Gumby up at his home in New York and told Gumby to go to hell and not to make the next trip out to the coast."
The show was immediately yanked.
Goo remembers the other end of that conversation, and its aftermath.
"Gumby was shaking with rage and yelling 'Go fuck yourself, Art!' over and over and over. Then he slammed down the phone, locked himself in the basement and went on a three-day drug binge. I was deeply frightened," she said.
When Gumby finally emerged, Goo said she could tell things had changed.
"He was totally ready to clean up his act," she said. " You have to remember, John Belushi had just died, and that hit Gumby pretty hard. It was as if he'd hit rock bottom and was ready to climb back up to a movie career. He kept saying, 'I don't wanna end up like John,' over and over."
FREE FALLING
Truth be told, Gumby was a long way from rock bottom, but he would soon begin making what would be a torturous trek toward it. It started when the studios he had been working with trying to nurture a big-screen career, quit returning his phone calls. At first he discounted it, but days soon turned to weeks and Gumby began more frantic.
He called up Engel at Fox and wanted to know what the hell was going on.
"Engel laid it out for him," Eve said. "He said to Gumby: 'You're nothing but a little green slab of shit in this town!'"
Goo said Gumby was dumbfounded as Engel described how he and Clokey made calls to all the studios and clued them in what the "real Gumby" was all about: the drugs, the tantrums, the ego.
"In short, he was finished," Goo said.
And in fact, despite a skyrocketing popularity with his 1960s TV show that always seemed to have a home somewhere in TV-land, and a near-resurrection of his career in the mid-1980s with a feature film deal that fell flat, he was finished. Many feel that Gumby died not in that Vegas motel room at the end of a rope, but during that conversation with Engel back in 1980, at the end of a phone line.
In that span of 20 years, Gumby seemed to drop from public view, but not before first trying to write a tell-all book with his long-time friend and co-star, his pony pal Pokey.
"He had this great idea about a behind-the-scenes tell all about the show," Goo said. "The drugs, the sex, the parties. Don't forget Gumby was at his height in the middle of the '60s. It was a whole new world!"
He called up Pokey, who came down from a commune in Oregon to collaborate almost immediately. In hindsight, Goo recalls that Pokey seemed entirely too eager to be involved given the open resentment Pokey had for Gumby following the show's cancellation.
In an interview with the Los Angeles Herald Examiner shortly after the show went into syndication in 1968 , Pokey addressed a question about his future in show business with the following response: "Look, I'm not going to get into the details, but let's just say my future would've been a lot brighter if a certain green slab of clay had managed to get along on the show. I mean, really, how many opportunities in this business are out there now for an orange pony?"
"Pokey was bitter and had absolutely every right to be," Peck said. "And when Gumby threw up that offer to co-write a book, Pokey saw his shot at retribution and took it."
It may have cost Pokey his life.
Pokey moved into Gumby's house in upstate New York and he got right to work pilfering Gumby's bank accounts, forging checks — all the while egging the drug-hazed Gumby on with how great the book was going to be and how rich it was going to make everybody.
"Pokey would say it's a sure thing," Goo said. "He made Gumby certain that the kids who grew up with them on TV in the 1960s were now old enough to be hungry for all the sordid details."
They even started to make things up.
"As if the reality wasn't outrageous enough," Goo said. "There were those nights at the Chateau Marmont, those trips to Vegas and enough rampant sex and drugs and groupies that Gumby and Pokey took advantage of anytime, anywhere — how do you think Pokey got his name?"
But the truth was not enough. In one chapter, they painted Clokey as a dope dealing, S&M hound, with a penchant for little girls, and in another Gumby and Pokey go into microscopic detail about a bunch of Blockheads they cheer on as they gang-bang Goo.
"That is a total lie," Goo said.
It wasn't long before things began to unravel. Gumby first discovered money missing from his accounts when checks started bouncing.
The climax came in March of 1982. They had been working on the book for more than a year and were nowhere near finishing it. Goo said she stayed in the bedroom while Gumby confronted Pokey about the money he'd taken. Pokey confessed right away, yelling back that it was money Gumby owed him for getting the show cancelled.
Then, according to Goo, a terrific fight ensued.
"There were things breaking and screams of pain and sounds of both of them rolling around and crashing into things. I thought they were going to kill each other," she said.
Instead it suddenly became very quiet, and when Goo came out to see what happened, she found Gumby bleeding by the front door and no sign of Pokey.
Or so she says.
"All Gumby said was, 'He's gone,'" she said.
Indeed, Pokey was gone along with $160,000 Goo estimates Pokey stole, which does not include the $45,000 advance Gumby had to pay back to the publisher after the book went down the tubes.
There's talk that there never was any money stolen. That, in reality, Gumby and Goo murdered Pokey that night for his cut of the book advance and somehow managed to dispose of the body, but Goo denies this citing the fact that an investigation conducted by law enforcement yielded nothing.
"Because there's no truth to those vicious lies. Pokey went back to Oregon and that's that!"
Yet to this day, Pokey has never been seen, either back at the commune that was his last known residence, or anywhere else.
I'M GUMBY, DAMMIT!
Bankrupt and desperate for cash, Gumby begrudgingly licensed his likeness and name to Saturday Night Live, giving up all control as to how he was to be depicted on the late-night comedy show. As a result, comedian Eddie Murphy disparaged Gumby as some bitter and elderly Jewish man who spends his time angrily trying to convince those around him that he's the real Gumby.
"He hated it," Goo said. "But the money was enough to pay off the publisher and keep us going. Sometimes you just gotta do what you gotta do."
The skits proved infinitely popular, but mirrored a rather accurate reflection of his standing in real life — especially show business. By 1986 he had mounted a campaign to star in a feature film, and he found himself telling studio executives the same line Murphy would spout. From the few nibbles of interest that sprang forth, he inevitably faced the resulting rejection with: "I'm Gumby, dammit!"
It didn't help him professionally or personally. Goo left him in 1988. She claims the parting was amicable, but a records search reveals an arrest report and complaint filed by her on March 28 of that year, in which she states that Gumby hit her repeatedly, attempted to strangle her and threatened to kill her if she ever left him.
Tired of being dragged down with him, she promised to drop all charges in exchange for him letting her go. He agreed. She has had no contact with him since.
From what this past reporter has been able to piece together, the remainder of Gumby's life was of one led in isolation, depression and increasing dependence on drugs.
To make ends meet, Gumby even resorted to performing in pornographic videos for a brief period in the mid-1990s. Under the A-Vid Video label, Gumby appeared as himself in two X-rated titles "FrankenGumby," in which his impotent penis is resurrected by a mad doctor and he screws everything that moves and "Gumby Does Gumbasia," a gay porno most notable for its scenes of Gumby circle jerking with several men dressed as blockheads.
But his career as a porn star was short-lived, mainly because, he was purportedly unable to sustain an erection for the long periods of time required by porn filmmakers.
"It was his size," said X-rated film legend Ron Jeremy. "It was a blessing and a curse."
Girth said that Gumby was remarkably large, "the biggest I'd ever seen — even bigger than me! — but the girls that worked with him had to work really hard to keep him hard.
"It was exhaustive and time consuming," Girth added.
And career ending.
Sinking even lower, Gumby stooped to producing live soft-porn broadcasts on the Internet. The webcasts offered no penetration scenes and mostly showed Gumby slapping his huge, flaccid penis against women's breasts and thighs and buttocks. They proved a popular novelty for a time, until Mattel Corporation lawyers representing Barbie filed suit against him for defamation after he was shown doing a Barbie look-a-like.
To pay off the settlement that was reached, he had to sell his house.
THE BEGINNING OF THE END
For $400, he agreed to appear on MTV's "Celebrity Deathmatch" wrestling program, taped a week before his death. Scheduled to air this spring, the cable network yanked the show out of the lineup after news of Gumby's death hit the streets. It would have been his first time back on television in 23 years.
"I think he was secretly hoping it would be the beginning of his big comeback," Goo said.
But his scheduled wrestling opponent, Mr. Bill of Saturday Night Live fame, saw it differently.
"Oh, no! I think he wanted to die in that wrestling ring on camera," said Mr. Bill. "He hardly put up a fight at all."
Gumby didn't die there, but as with most of his life, he did lose. Mr. Bill was saddened when he read of his death.
"I'm really upset about it," Mr. Bill said. "He was my inspiration and my idol. I never would've gotten into show business if it weren't for seeing Gumby when I was a little kid."
In the locker room after the match, Mr. Bill recalled Gumby being almost delusional. He was talking about losing everything. He said the only thing he had left was his car and his life and his car was worth more."
Then Mr. Bill said Gumby snorted some coke, threw him the car keys (to a 1972 Firebird 350) and walked out.
From New York, Gumby took a Greyhound bus to Las Vegas. Once there, eyewitness accounts place him at the Frontier Casino where he gambled — and lost — most of what he had left. With what remained, he walked the few blocks to the Desert Star Motel and rented room 216 from the motel manager, Dwight Stokley.
"He looked just totally worn out," Stokley recalled. "I barely recognized him right away. Then when I did and told him I knew he was Gumby, he just turned and headed for his room. He never came out."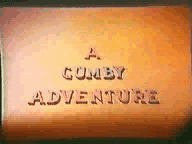 Housekeeper Mona Wimble found him dead the next day, dangling from a shoestring.
Goo, sees some logic in where he decided to die.
"It's strange, but the reason I think he went to Vegas to die was because it was one of the places he loved way back when he was a star."