Something about the name and age of one of the two cyclists killed on Pacific Coast Highway September 10 caught my eye in the story in today's L.A. Times: Scott Bleifer, 41.
September 14, 2005
Not the Scott Bleifer I went to school with at Beverly High and whose pictures are sprinkled liberally throughout my senior year yearbook, of which he was a staffer? Couldn't be. Not the Scott Bleifer. I read a little further:
Karen Bleifer, a jewelry designer, said her brother was very happy and an adventurer who took cycling trips in Tuscany and Hawaii, traveled by himself to Vietnam and hiked to the top of Machu Picchu, the ancient Incan city in Peru. Bleifer grew up in Beverly Hills, where he attended Beverly Hills High School. He earned a bachelor's degree at UC San Diego and a master's in business administration from USC, his sister said.
My heart fell.
It's not that I was good friends with Scott. We weren't even passing acquaintances. At best we were nothing more than fellow schoolmates in BHHS's Class of 1982 — I'm not even sure if we shared a classroom together. But regardless, he made enough of an impression to span some 22 years wherein I almost immediately recognize his name and shake my head in pause at yet another prime example of how fleeting life is.
There Scott was in the prime of his life. A bank executive seemingly happy and successful and training last Saturday for this year's Arthritis Ride, an eight-day, 500 miler from San Francisco to Los Angeles — similar to the Biking For The Birds ride I did in 2003 — and instead he's gone.
I wish I had an anecdote to share of our time together at Beverly, but we were just two of thousands of students and had little interaction that I can recall. Instead, let me offer my favorite of all the photos of him I found when I hauled out my senior yearbook and looked him up in the index. In addition to his yearbook photo there are photos of him with the yearbook's staff and several shots of him around campus. I dig this one most in part because if I do remember one thing about Scott, it's that he had a fondness for turtlenecks. Plus the Beverly Hills Ski Club T-shirt he's wearing rocks: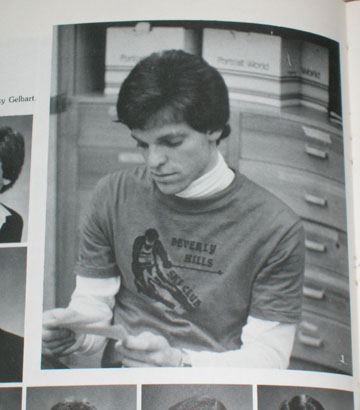 Perhaps it's because we're the same age and used the same school halls and bathroom stalls way back when that his death is weighing so heavy on me. Even the most tenuous of connections can be a bond of some sort. It could also be that he was killed doing something I love to do: cycling. It's just a crying shame all the way around that he had to exit so too soon.
Rest in peace, Scott.