Man I am bushed so I'm a-gonna keep this short. First, here I am prior to the start of the L.A. Treasure Hunt: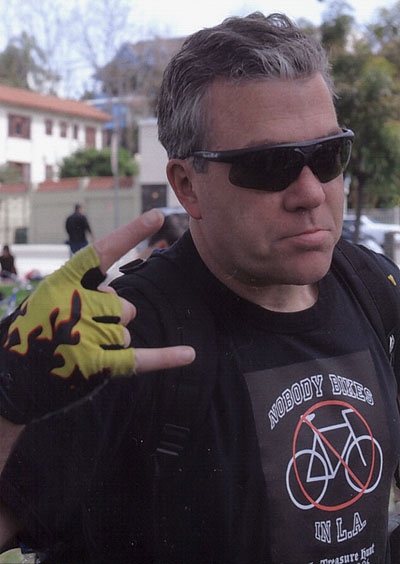 The snap, taken by a friendly chap who was going around offering to take the pix for something he called his "portrait project" not only shows my fine gray hair off along with the bitchin' team t-shirt I made, but more importantly also demonstrates how much different I look than the picture I posted Friday of me at 270 pounds back in the summer of 2000.
The L.A. Treasure Hunt, which had been scheduled to take place March 12 but ggot postponed on threat of rain, was kind of an "Amazing Race" on bikes that began at Echo Park Lake, went to the old zoo at Grifffith Park, back into Silver Lake then down to MacArthur Park then east into downtown proper at the Disney Concert Hall downtown and the fringes of the Arts District before coming back into Chinatown and concluding at the base of Fargo Street in Echo Park. All told I was in the saddle about six hours over the course of 25 miles.
So like I said… I'm bushed. And thus I'll close with the fact that the Nobody Bikes In L.A. team didn't win, we certainly had fun doing it.