Saturday morning was spent with some L.A. County Bike Coalition members and volunteers to help post signage that will keep 6th Annual Los Angeles River Ride riders headed in the right direction today.
From the Los Angeles River Center I biked down to Mariachi Plaza in Boyle Heights where, with the assistance of Bruce Dobb and Howard Hackett, we posted northbound and southbound directional markers along the ride's course to a point just south of the city of Vernon at the entrance to the L.A. River Bikeway.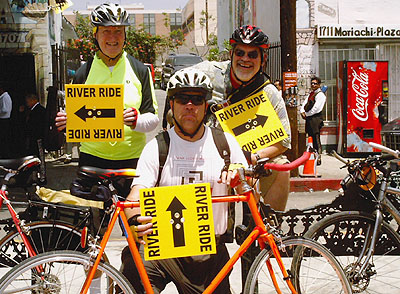 Howard Hackett (left), Bruce Dobb (right) and I did our part Saturday to keep cyclists headed left, right and straight through a five-mile section of today's L.A. River Ride.
Other photos from the morning can be viewed here on Flickr.