Over the years, I've compiled a quartet of trinkets that have become the charms I take with me wherever I may roam, and with us leaving tonight for a flight up to Redding followed by a whole bunch of driving through various states of the union and consciousness, they'll certainly be coming along for the ride: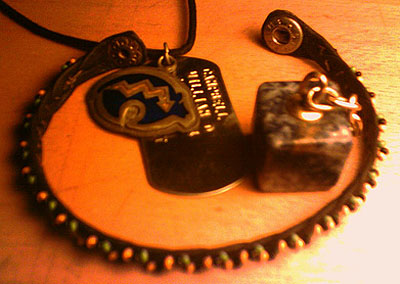 In reverse chronological order, the first one I got is that blurry block of stone on the right. It was given to me in the city of Salvador in the state of Bahia in the country of Brazil back in 1995 back when I worked for a trade magazine that covered the stone industry. There was a stone trade show down there and I'd been sent to report on it and believe it or not that little square of Blue Bahia granite was one of the most coveted pieces of shwag one could get. The head of the sole company down there that quarried and manufactured the stuff was notoriously diligent in who who found deserving and even though I wasn't, I guess since I was a representative of the press he dropped one into my palm to curry a little positive copy. It worked, and I've brought it with me in all my international travels since.
I've had that dog tag for around eight years and it's more of a local mojo, worn pretty much whenever I'm riding my bike around L.A. So far so good.
The pendant of the bear with the lightning bolt inlay is my Death Valley mojo, purchased during my first trip there in 2002. And it's come with me every visit to the place since. I paired it with the dog tag in 2003 when I was training for and doing my eight-day, 475-mile Biking For The Birds fundraiser ride from San Francisco to Santa Clarita.
Last but certainly most important is the beaded bracelet, which Susan purchased for us from some shop in the Kenyatta International Airport in Nairobi during our trip to Africa last year. After we got home I later installed it on The Phoenix (every bike should have a dedicated mojo), but I'm detaching it and bringing it with me (as is Susan bringing her's).
Anyway, we and our mojos leave this eve. Since we're driving back into L.A. at the other end of this trip we'll be catching the LAX flyaway bus from Union Station. And while I'm hoping to be able to post as we go, our tempremental laptop and unknown internet connectivity along the way through Washington, Oregon, Idaho, Montana, Wyoming, Utah, Arizona and back here to Cali might leave me relegated to tossing up the occasional phonecam pix onto Flickr. Guess we'll find out, won't we?
If not, we'll catch you up on the other side somewhere around mid-July.