Another from the "One Should Never Fail To Acknowledge Kindness" file… or perhaps the "One Should Never Fail To Make Others Never Fail To Recognize Kindness" file: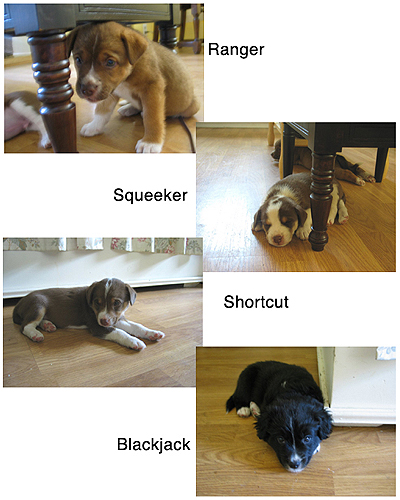 July 17, 2006
Grand Canyon National Park
Attn: Joe Alston, Superintendent
P.O. Box 129
Grand Canyon, AZ 86023
Dear Superintendent Alston,
As part of a 4,500-mile, 16-day vacation that brought us from our home in Los Angeles up through Oregon, Washington, Idaho, Canada, Montana, Wyoming, Utah and Arizona we had the pleasure of making our first-ever visit to the Grand Canyon, July 12 – 14.
Making the stay even more unique was the unexpected addition of four six-week-old pups that we found and rescued on our way to the Grand Canyon July 11. Abandoned off the side of Highway 163 in Monument Valley, Utah, my wife and I provided care for the desperate dogs and were amazed at how quickly they rebounded.
Arriving at the Xanterra's Yavapai Lodge the evening of July 12 we learned of its policy prohibiting pets from the rooms and were relieved to discover a kennel service was available, facilitated by the wonderful assistance of John Paul at the Yavapai's front desk.
Being able to leave the pups there for those two nights not only allowed us to enjoy the southern rim as we had intended to on July 13, but also is prompting me to write you to express my appreciation of and praise for the kennel's caretakers, Karin Sjobakken and Linda Popp.
It is my sincere hope that you personally share in that appreciation and praise for these two wonderful women who give so much of themselves caring not only for boarded animals such as our quartet, but also the numerous animals that are lost or discarded throughout the park and region. It is important, seemingly thankless and endless work that they do and both the National Park Service and Xanterra would be best served finding more ways to support and recognize their tireless efforts.
On the morning of July 14, we retrieved the pups for the 500-mile journey back home from Karin and Linda who were thankful to find animal lovers as committed as them. The feeling was mutual.
Regards,
William and Susan Campbell
Los Angeles, Calif.
P.S. Enclosed please find pictures of the foursome relaxing in our kitchen.
Enc.
Cc: Mike Harding, Xanterra South Rim L.L.C.; Karin Sjobakken and Linda Popp, Caretakers, Grand Canyon Kennels