Susan and I welcomed a charming young lady over to the house who was interested in adopting a pup, and the end result is that we were so impressed with her heart and willingness to commit that the one we called "Squeaker" has gone off to have a new and wonderful home and life with her new guardian. We love you Squeaks!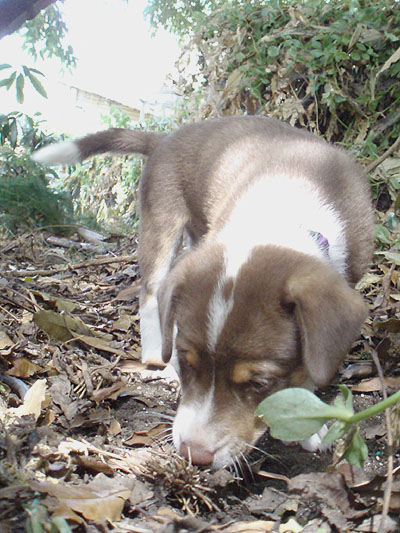 We have a couple more interviews lined up this afternoon and by the time those are done may be bidding farewell to ""Shortcut" as well. Blackjack's new family will be picking her up sometime next week.
In anticipation of the exits, I rounded up the quartet earlier this afternoon for a shot in the very box we first photographed them in at our room in the Cliff Dweller Lodge near Vermilion Cliffs in Arizona the day we found and rescued them:

July 11, 2006
And here are the larger versions of the foursome today: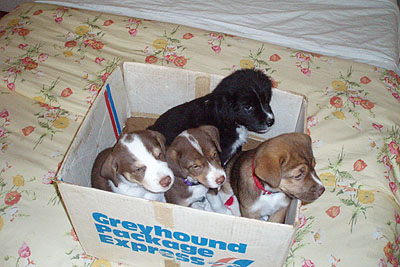 July 29, 2006
I find myself surprised at how sad I am in saying goodbye. I know Squeaker's new guardian is going to give her a wonderful home and life and I'm very proud that we facilitated it, still there's something really difficult in letting her go… in breaking up the team that I've watched grow these past couple weeks. And it's probably not going to get easier as we see Shortcut and Blackjack off to the next chapters of their lives.
But then there will be Ranger for us to raise in the knowledge that we went above and beyond the call in seeing these pups given a chance to thrive.
UPDATED (5:41 p.m.): Indeed, after the second prospective adopters arrived shortly after 5 p.m. we said so long to Shortcut. Be well and well-loved Shorty!