Back last summer the CBS2 website put out a call for its visitors to "Show Us Your Tees," and I obliged by taking a photo of my torso bearing my favorite shirt and in my email included the following background:
Attached please find my very favorite T-shirt, which qualifies not only from a local cultural perspective but also from a vintage one as well. While not as old as some to be sure, it is nevertheless 15 years old and the primary reason it's in such good shape is because for most of that period I was too out of shape to wear it.

Purchased as a souvenir after a 1991 tour of the landmark Hollywood Hills home, I soon outgrew it horizontally and for all those years that the weight stayed on me the shirt stayed folded up and put away. After finally hopping onto a healthier bandwagon at the beginning of this year I'm able to wear it after dropping 50 pounds the old-fashioned way, by eating right and exercising.

Now I'm making up for lost time by sporting the shirt almost as often as it comes out of the washing machine — and in recalling a better time for the architectural masterpiece perhaps I'm increasing awareness of how much effort and support will be needed to bring the residence back to its former glory as an important part of Los Angeles' historical cityscape.
After sending it off to the designated email address I looked to see if it made the cut, but never found it online until today, when I happened to be visiting CBS2.com and saw a link to its Most Popular Slideshows of 2006. Taking a chance I clicked it and way down on the list were the the tees. One more click and there it was, and a thumbnail click later there I was… or rather my beshirted chest: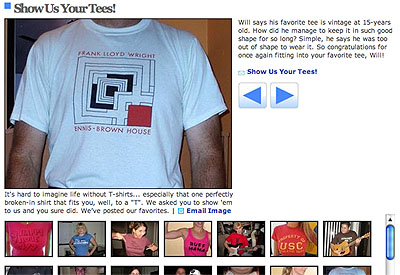 In other news, I transitted myself publicly again today. I'm not sure if the 10 minutes earlier that I left had anything to do with it, but the hat-trick ride MTA bus to Blue Line train to Green Line train with about a mile-mile walk in between only took a zippy 65 minutes getting there and a more normal 95 minutes getting home — and I knocked out about 50 pages of Norman Klein's "The History of Forgetting."
Of course I went onto Gmaps and charted the 22.5-mile walk-bus-walk-train-train-walk journey.
In comparison, the drive to work Tuesday was a spiff 40 minutes, but the hellride home was a disgusting alterna-crawl involving surface streets, the 405, briefly the 10 then from Palms on in the rest of the way surface streets. CLOGGED surface streets. I pulled out of the company parking lot at 5:20 and didn't arrive home until the clock read 7:02. And the only reading I got done was of the streetsign variety.