There's plenty for me to kvetch about in regards to yesterday's first L.A. Storytellers workshop at the Dorothy Chandler Pavilion. But the encompassing aggravation is that I'm a writer, not a teller.
I won't go too deep into a play-by-play other than to say I arrived to find a much larger turnout than I'd been expecting, and I'm happy to say that the Music Center personnel were terrifically accommodating in allowing me to secure The Phoenix in the Dorothy Chandler's coat check room (perhaps the first time a bicycle has graced the confines normally reserved for furs and such).
After checking in, the workshop facilitators with Cornerstone Theater (of whom apparently actor Bill Pullman is perhaps a board member because he was the the videographer for the day) got everyone loosened up and mingling with several engaging exercises successfully designed to get us all talking to each other, Then after a bagel and juice break we reconvened to count off from one to five and be divied up into smaller groups for the actual story telling. I wound up in the "1" group and as fate would have it I was the only male among the 10 of us.
After some fun physicalization drills, our group's director Page dove us right into the storytelling and I made the mistake of speaking up and inquiring as to whether I should freestyle through the 100 word synopsis I submitted when I signed up or wade through the 3,000 word draft I'd written some time ago.
Page's eyes got wide at "3,000" but she told me that the choice was up to me and why don't I go first.
"But I don't want to go first."
"Why not."
I started to say because I don't wanna, but looking around at the pleasant circle of ladies (most of whom were older than me) I had a good idea that my story — besides being monumentally looooong and rather personal — was also going to be the only tale involving a throat being cut. And all my personal indicators were telling me to be anyone but the first one.
But instead I just said "fine" and away I launched bumblingly into a very poor construct of my downtown tale of theft, insurance fraud, deceit, double cross, blackmail and murder in which I felt obliged to apologize for the backstory, in between getting ahead of myself and having to backtrack and reiterate and generally just feel like an idiot.
But nevermore so idiotic then when I was finally getting to the homestretch and all of a sudden up pops Page with a built-in condescension she may or may not be able to avoid but was perhaps trying to mask with something attempting sincerity (and failing) telling me from behind this phony grin that I instantly hated how sorry she was to interrupt but that I needed to wrap it in the interest of everyone else having the opportunity having to tell their stories.
Note: I have a history of reacting rather strongly
to being interupted in the middle of presentations.
A lot of things happened in the seconds that followed Page's spike strip. I looked at my watch expecting in horror to see that a half hour had somehow transpired from the moment I opened my mouth, but was pleased to see I was only approaching my sixth minute. Then I got pissed off at Page for a whole number of reasons: stopping me; failing as the so-called "director" to provide anything resembling direction (such as "try to keep your presentations to less than five minutes" would've been nice); her fake grin. Then I totally lost my train of thought and briefly toyed with just saying "and they all were incarcerated happily ever after, the end." and abruptly gathering my stuff, bidding the fair ladies adieu and getting the fark outta there and on with my life.
But instead I shrugged and wrapped the story up anticlimactically and sat back seethingly inwardly as Page and her assistant scribbled some notes before moving onto the next story, which was an elderly woman's quaint tale — in poem form — of herself as a young girl coming down with her Yiddish-speaking mother to the old Philharmonic via the Red Car to see Arthur Rubenstein perform. Very nice.
The rest of the women brought forth nothing resembling stories so much as brief recollections, vignettes and reminiscences of downtown events and experiences. Most were very nice and very brief, reinforcing me as the odd man out, literally, figuratively and narratively.
After that we adjourned upstairs for some final thoughts with everyone before being released. Whereupon I retrieved my bike and rode down to the site of my story's murder — my first time back since my last day working there in 1982 — to find the place was just as I remembered it from 25 years ago: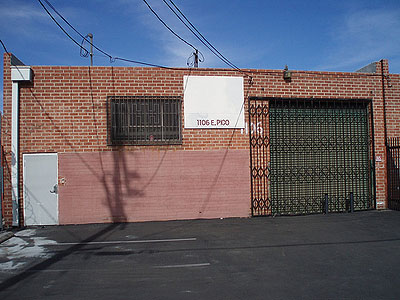 Barring getting some sort of "thanks but no thanks" correspondence from the events organizers, I'm certainly willing to return for the second L.A. Storytellers workshop and subsequent "performance" in a couple weeks. But that's contingent primarily on my willingness to whittle my story to a more concise format, and secondarily on whether or not I have any desire to work with the likes of people such as Page. Editing the piece down is no problem, but should I accept that mission and then show up to find I'm paired with her again, I just might run screaming from the building.