I'm giving up my plan because of the ridiculous pricetag. See this piece of outdoor furniture below?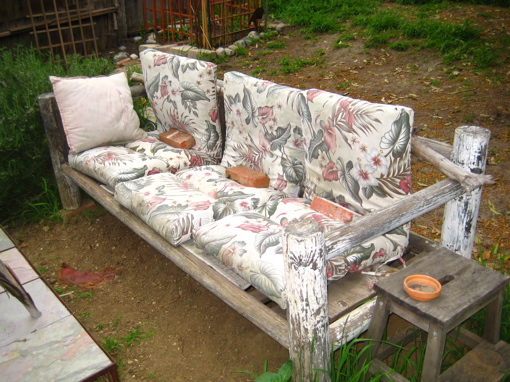 The wood bits are in need of a sand down and maybe a refinish and a sealing along with some new seat slats, but it's a unique kinda ranchtastic piece that deserves some TLC, which is what I'd been wanting to do for Susan's birthday later this week, finished off some new cushions.
The cushions as they appear seemed like a good lowcost solution some three years or so ago when we purchased them, but obviously the elements have not been kind to the light-colored floral pattern, and if one wants to stretch out across them it's not all that comfortable.
In putting off visiting Diamond Foam & Fabric on La Brea until this past Saturday I knew there was no way in hell I could deliver the finished project by next Friday, so with an eye towards our anniversary in June I biked over with the measurements for single seat and back cushions at 74 x 28 x 3 inches and 74 x 12 x 3 inches, respectively. After picking out a nice brick-red Sunbrela-brand outdoor fabric to work with our patio umbrella and chair cushions, I approached the guy behind the counter, who worked up an estimate for me. From the moment I told him the dimensions he took one look at me in my bike helmet and backpack and started shaking his head, which is an odd sales technique to say the least. I wasn't sure why at first, but I soon found out.
See, from my untrained eye I'd been thinking the ballpark cost for the upholstered foam would be somewhere between $200 – $300. After all, it's two pieces of foam and two pieces of fabric, plus whatever labor was involved.
Silly me.
When all was said and done and all calculations had been calculated, the grand total for those two pieces of foam, two pieces of fabric and whatever labor was involved putting the latter around the former was going to be…?
Eight hundred and fifty dollars!
My eyebrows arched so high they physically left my head and  I repeated the number back with extra incredulity and dared to ask why.
The estimator just shook his head some more and said "Because it's custom work, that's why."
I didn't physically run from the store but I certainly beat a retreat out of there hopefully towards a more reasonable and ready-made solution.