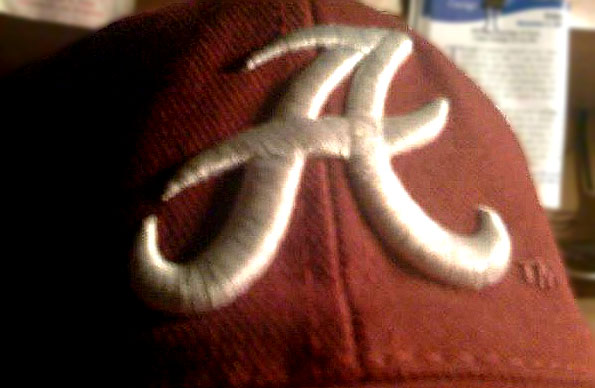 I've had this hat since 1993, the last time Alabama won  the national championship.
For the most part, growing up in Los Angeles college football is all about USC and UCLA. For me since I was 7 years it has aways been about Alabama.  The Crimson Tide.
My fantasy when I walked on the Beverly Hills High School football team at the beginning of my sophomore year of high school in the fall of 1979? It was to get a scholarship to play as starting tight end for Coach Bear Bryant at the University of Alabama.
My neglible skills on that junior varsity team relegated me mostly to the bench, but throughout that nonchampionship season spent mostly being a tackling dummy in practices and keeping the sidelines warm during games, I never let go of my dream, at least not until the end of the season when the most important thing to the coach wasn't my growth as an athlete or my return next year, but rather my return of the uniform ,  failure of which would subject me to a $150 charge. Asshole. But hell, it was Beverly Hills in the early '80s. Everyone was an asshole when I was in high school.
It was a good thing I eventually did loosen my grasp on the fantasy. Had I remained a football player and even if I'd somehow managed to rise above to a greater scholarship-worthy skill set, it would have all been for naught.  Because in my senior year of high school, Coach Bryant announced his retirement and then up and died a few months later.
Still I was heartbroken. I would never play for The Bear.
But I've always been the President of Alabama's west coast fan club, the ranks of which include me. And my mom, who is an Alabama alum — which is the foundation of my rabidity for its football program. Having never known my abandoning father nor what school he might have rooted for, Paul Bryant became something of a surrogate for me. I'd watch whatever games were broadcast here in Los Angeles and I'd study images of him on the TV screens.
And I wanted him to be proud of me.
I'm writing all this because besides me and my mom most Southern Californians don't give much of a shit for the fact that Alabama played the Florida Gators today for the SEC Championship. And though few people outside of that great state had any hopes that they'd upset the top-ranked team in the country led by holy-rolling quarterback Tim Tebow, 'Bama ended up righteously kicking some motherfucking Gator ass: 32-13.
Holy shit, indeed.
Throughout the telecast, I yelled. I shouted. I cried. I cheered. I bitched. I moaned. I lost my voice. I stomped. I tromped. I got sideways glances from my wife and every creature in the house with my antics. But even I didn't expect the victory to be so lopsided in a game I tweeted at various points from start to finish (after the jump, if that sorta thing interests you):
Time to don my Bama cap because it's gametime! Roll Tide!

about 4 hours ago

from web

3 and out for the gators on their first drive! LOVE THAT

about 4 hours ago

from Tweetie

Bama inthe red zone and Fla Coach Meyer looking a little nervous!

about 4 hours ago

from Tweetie

TOUCHDOWN BAMA GAWDAMA FOFAMA SLAMMA JAMMA

about 4 hours ago

from Tweetie

But Bama kicker Tiffin then has to blow the extra point. GAH

about 4 hours ago

from Tweetie

Tebow with the biblical references scrawled into his eyeblack. What a jesustool

about 4 hours ago

from Tweetie

Gators are on the board with a FG. 9-3 Bama

about 3 hours ago

from Tweetie

Well Bama's first wildcat formation didn't go very well -1st quarter done

about 3 hours ago

from Tweetie

Roll Tide 34 yard gain! That's called getting BEAT! http://twitpic.com/sax39

about 3 hours ago

from Tweetie

Bama QB McElroy just Barishnikov'd along the sideline to the best first down ever!

about 3 hours ago

from Tweetie

Bama QB sacked. Sigh

about 3 hours ago

from Tweetie

Bama FG good, 12-3

about 3 hours ago

from Tweetie

Gotta give props to Tebow. Dude's an animal.

about 3 hours ago

from Tweetie

Gator TDs make me sad

about 3 hours ago

from Tweetie

Bama just burned the hell outta the gators for a 69-yard gain. Way to answer back Tide

about 3 hours ago

from Tweetie

Bama TDs make me happy

about 3 hours ago

from Tweetie

Nice gator answer-back for a 59 yarder. Sigh

about 3 hours ago

from Tweetie

Sorry, but when Fla fans do that gator chomp clap they look like littlebus riders

about 3 hours ago

from Tweetie

Fla FG, 19-13 Bama lead

about 3 hours ago

from Tweetie

Bama goes into halftime with the lead from 268 total yards of offense.

about 3 hours ago

from Tweetie

There are 2 quarters left in this SEC championship. I will not waiver in my belief that my Alabama can and will win. Roll Tide!

about 2 hours ago

from Tweetie

I've little doubt that in the locker room, Fla QB Tebow told his mates "follow me 2 victory," whether they oblige will determine the outcome

about 2 hours ago

from Tweetie

First 2nd half possession for Fla: 3 and out. That's huge

about 2 hours ago

from Tweetie

BTW: I've imbibed entirely too much fully loaded Pennsylvania Dutch nog

about 2 hours ago

from Tweetie

Wait. Another gator 3 and out? I'll take it

about 2 hours ago

from Tweetie

For the record: I have screamed enough at the TV to have already lost my voice

about 2 hours ago

from Tweetie

If this drive Bama drive ends with any points it has the potential to be a gator backbreaker

about 2 hours ago

from Tweetie

I want to take this moment to thank my lovely wife and our pets for this annual toleration of me turning into A raving sports lunatic

about 2 hours ago

from Tweetie

If you'd told me Bama would be leading the gators 32-13 in the 4th quarter of the SEC champ game i'd've said: ROLL TIDE!

Tebow fumble overturned

about 1 hour ago

from Tweetie

Bad decision by Tebow = interception. HFS!

about 1 hour ago

from Tweetie

Do I dare say: GAME OVER! Why yes, yes I do.

about 1 hour ago

from Tweetie

My gawd, unless Bama has a complete collapse, they're coming to the Rose Bowl to play for the Nat'l Championship. CAN I HAZ TICKETZ?

about 1 hour ago

from Tweetie

Fine Tebow: You pull out a victory and I'll go look up John 16:13.

about 1 hour ago

from Tweetie

Bahahahahhahaha I'm a Florida hater, not gator

about 1 hour ago

from Tweetie

"Alabama won it from start to finish." Well put.

about 1 hour ago

from Tweetie
@DufresneLATimes will find a way to rain on Bama's victory parade.

42 minutes ago

from Tweetie

OMFG BAMA BEAT JESUS II AMD HIS FLORIDITES

41 minutes ago

from Tweetie

Let me try to be gracious on victory. Roll Tide!

37 minutes ago

from Tweetie