I'm sorry the blog's been so dormant since we got back stateside. I was greeted with some really bad news the morning after we got home (that I really can't go into), and on top of that when I haven't been mutely distracted by said news, I've been subsumed in the avalanche of work that I put on pause while we were away.
But here I am at 2 a.m. on Friday morning and I had to look my tired eyes away from my work computer lest my brain implode, and as a diversion I loaded all the 2,000-plus images of our trip from my laptop to my desktop. Low and behold  in scrolling through them I found the following three-frame panorama I made of the breathtaking 12th-Century Bayon Temple ruins as seen on our final night in Siem Reap, Cambodia (click it for the bigger picture):
This is a tremendously rare way to see the amazing place since the entire Angkor Archaeological Park closes to the public before dark.
Noooo, we did not sneak in with a generator and bright lights. Instead the illumination was all part of a dinner  and performance event involving the tour group to which we were attached — The American Board of Trial Advocates (ABOTA) — that the Cambodian government considered prestigious enough not only to warrant the affair and provide a traffic-stopping police escort from the hotel to the temple, but also to broadcast the proceedings on the country's national TV station. Hi mom!
There was traditional music and dancing and foodfoodfood, even the governor of Siem Reap Province himself made a speech, thanking us for our visit and encouraging us to go forth and spread the word about the beauty and history of the area and its value as a tourist destination.
Susan and I had come here earlier the same day with fellow adventurers Miles and Maryanne Cooper as the final stop on our afternoon tuk-tuk excursion (the outbound ride of which I timelapsed) — in part because a freak storm had barreled through the night before and we weren't entirely sure it wouldn't return and force the event's cancellation and thus deprive us a chance to see the landmark.
Here's a shot of a section of it in the daylight, featuring a sampling of the huge serene faces that can be found throughout (click it for the bigger picture):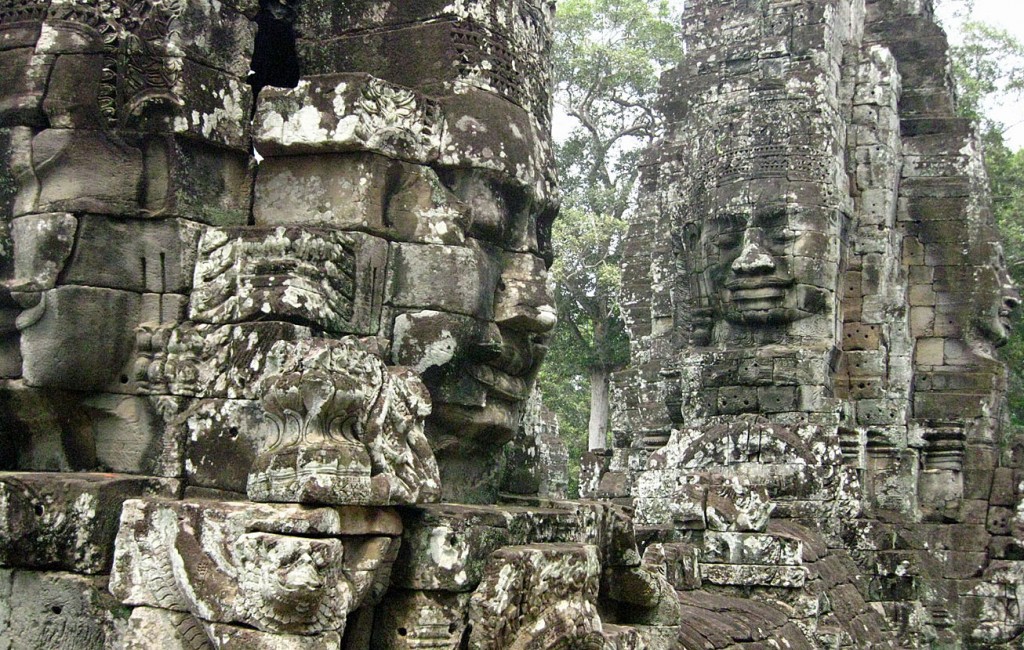 I could use some of that calm right now.