I had the excellent company of Ann, Harold, Robert and Thaddeus, a fabulous foursome of fellow cycling enthusiasts, who showed up at the starting point in Silver Lake to join me on the 47-mile trek that set out about 9:45 a.m.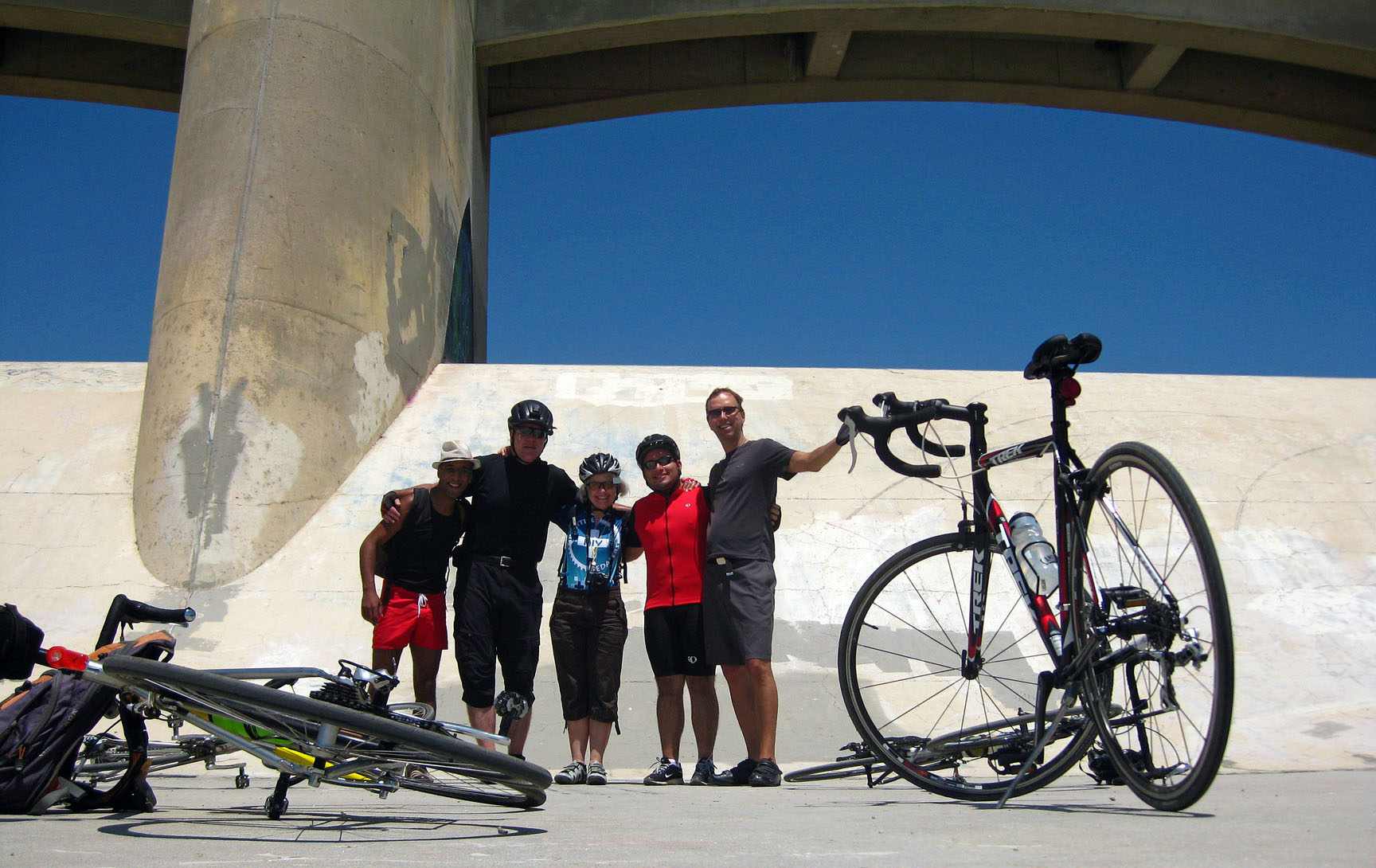 From the left that's Harold (who did the whole ride on a singlespeed!), me, Ann, Robert and Thaddeus after I led them offroad to check out the Sepulveda Dam spillway, whose vast concrete emptiness served as good prologue to what we would soon find on the Skirball bridge over the 405 :
And here's the Mulholland bridge demolition in progress:
I still think the city missed a HUGE windfall opportunity to charge $20 for anyone to bikebomb the 405 down into the valley, but maybe that's just kooky  me and my willingness to sign a waiver absolving all entities of any liability.
Anyway, Thaddeus split off from us at the 405 to ride Mulholland, and Robert bid us adieu at La Brea and Melrose, leaving Ann, Harold and me to make it to the oasis that is Scoops at Bicycle Square where Ann kept on going while Harold and I enjoyed an ice cream reward.
The only bummers encountered had nothing to do with gridlock or road rage — in fact the overall serenity on the streets brought to mind the unexpected and still unsurpassed two weeks of summer games back in 1984. Rather the downers were two flats I suffered (one partial deflation that held up until getting to Santa Monica and Sepulveda; and the second upon leaving Scoops), my iPhone's otherwise ultra-dependable Cyclemeter route app shutting down inexplicably in Westwood, and my cam's memory card filling up as we entered Beverly Hills, bringing an abrupt end to the timelapse vid at around the 36th mile.
But those were minor inconveniences to what turned out to be a great day for a ride: