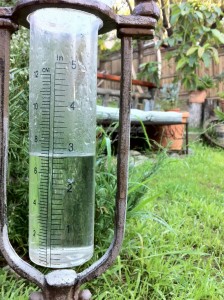 Forecast estimates fluctuated between yesterday's storm dropping somewhere between a quarter- to half-inch of rain in the Los Angeles basin, and I saw a report on TV last night that in the end about two-thirds of an inch was recorded downtown.
As has been the case with every storm that's landed this fall, the total in our Silver Lake backyard has far exceeded official amounts, with 2.83″ measured (pictured at right) between the morning hours of December 12 when the rain first started falling, until this morning at 9:05 a.m. as the skies cleared.
And that brings our season-to-date amount to: 13.052″.