I take occasionally dips into the USC Digital Library because I can't help but come up with images like this (click it for the bigger picture):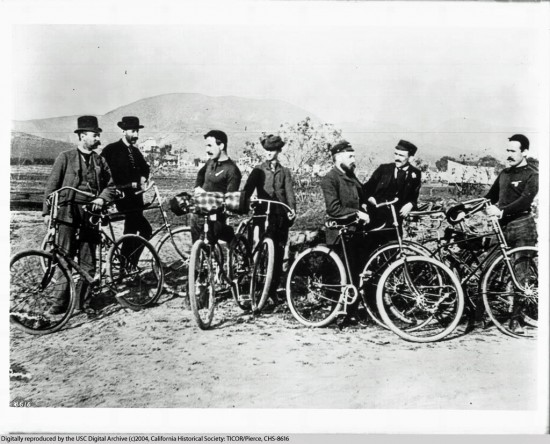 From the image's webpage comes the following description:
Photograph of seven riders of the Los Angeles Bicycle Club on one of their club outings, ca.1887. The men are standing next to their bicycles. Some of them are leaning on their bikes. Most of the men can be seen wearing suits. The background shows a country setting with mountains in the distance.

There is a big possibility that the two young cyclists with mustaches and rounded caps are Thomas Allen Jr. (3rd from left) and William L. Sachtleben (far right) — two famous bicyclists who traveled from Liverpool to Peking on their bicycles in 1890. These two "world girdlers" arrived in Los Angeles on Jan. 21, 1893. They were heading to New York to complete their global circuit. On Jan. 22, the local wheelmen organized a ride in their honor "through Pasadena, Santa Anita and Azuea [sic] to Monrovia" and return.

Allen and Sachtleben graduated from Washington University in June 1890, sailed to Liverpool, and began a 15,000 mile bicycle journey to Peking. They had conceived of the idea during their senior year as "a practical finish to a theoretical education" in liberal arts. Their account really begins in Asia Minor as they cycle on through Persia and Turkestan, with detours to Merv, Bokhara and Samarkand. They peddled across the vast tract of the Gobi Desert to Peking, where they were received by Li-Hung-Chang, the Prime Minister of China.
I believe the Los Angeles Bicycle Club was an organization that later became the present Los Angeles Wheelmen.