On Christmas Eve morning Susan and I set out in the light rain for a Silver Lake walkabout that turned into an almost-six-mile loop around our wonderful neighborhood. We discovered new stuff, like this colorfully reborn parking meter we dropped a couple coins into where it stands just south of Rowena on West Silver Lake Drive. This one's set up to raise money to keep lighted the lovely "Chandelier Tree" the property owner created, and represents a variation of a movement afoot in various cities across the country to re-adapt and reuse the defunct machines as donation stations for various causes.
And we stopped into a variety of shops catering to last-minute holiday shoppers including Yolk, Brightwell, Broome St. General Store, Casita del Campo (for a mid-route libation), The Cheese Store of Silver Lake, Pull My Daisy, Reform School, the 99-Cent store, Daisy's Antiques and Danish Modern LA.
Before we left I loaded into my backpack a couple books because the one place I wanted to visit in order to give rather than receive was St. George Street branch of the Little Free Library that's been set up for well over a year (and actual it's stationed on Rowena between St. George and Hyperion).
Mission accomplished: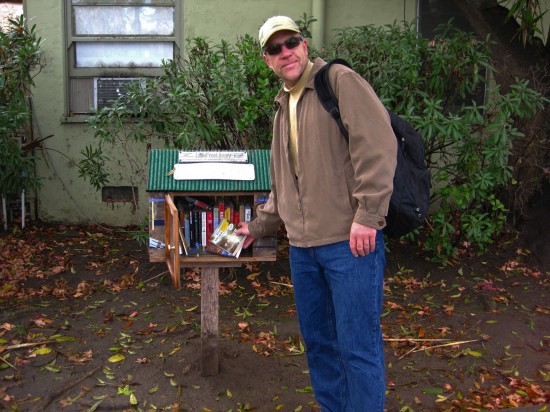 One of these years I'm going to add my own satellite branch to the extensive nationwide system.
Merry Christmas!
PS> For a few more snaps of some of the things we saw along the way, check out this Flickr set.