Not sure why, but back when I was growing up I was always so much more an "Emergency!" kid, only occasionally watching the landmark "Adam-12" series (1968-1975). Thanks to Netflix over these last six month or so, I've methodically marched my way across every episode of the first five years, and am about three or four into the show's sixth (and second to last) season on the air.
Why? I attribute a fair share of my interest to nostalgia, but also to the fact that it holds up all these years later as a pretty damn good show. Of course, my main enthusiasm for it might have something to do with my present status as a trainee in a public safety program, and for sure whenever partners Pete Malloy and Jim Reed (Martin Milner and Kent McCord) inevitably do wrong by today's law enforcement training standards, it reinforces how I should do things right. Whether they're doing person searches before handcuffing, using the old "feet back and spread 'em!" technique, calling for back-up and then not waiting for it to arrive before charging headlong after armed criminals into buildings, or turning their backs on suspects, the dynamic duo never fails to teach me what not to do almost each and every 24-minute episode.
Another reason is that it was filmed all around Los Angeles. Although the team was based out of the old Rampart Station on Temple Street and Benton Way, sadly most of the filming locations were in the San Fernando Valley. But Malloy and Reed certainly got all around town over the years and it's an added bonus when I discover scenes filmed in my neck of the hoods. Take the following screengrab still from a scene showing Malloy with Sergeant "Mac" MacDonald (William Boyett) taking cover behind their patrol car from a shotgun-carrying robbery suspect pinned down in the then-open ped tunnel in Echo Park a block north of Sunset Boulevard on Montana Street between Logan and LeMoyne (click it for the bigger picture):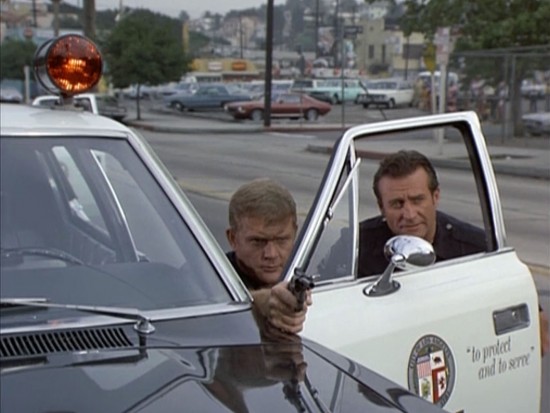 Then there's this one from way back in the first season when the partners pull over a young socialite for speeding around the west side of Silver Lake Reservoir (click it for the bigger picture):
There have been plenty of others I've recognized (for example, the opening credits of the first couple/three seasons involved the vehicle speeding north on Hoover from 6th Street with historic First Congregational Church in the background and the countless stock shots of the station house), but I've been too lazy to screengrab them. If any more show up during the remaining episodes I'll get into the habit of capturing and posting.
UPDATE (03.15): I remembered in an episode from Season Five (1972) during a protest scene staged in front of Rampart Station, the angle of the shot showing McCord and Boyett talking outside the entrance revealed the LAPD had a notable neighbor across Temple Street back then… the Church of Scientology. Interesting that they were as modest about their signage as they are now.