Another thing seen that was interesting during yesterday's 30-mile roundtrip bike ride happened on the way back home toward Silver Lake in the form of this multiple motorcycle officer-escorted camera car traveling north on Arden across 4th Street in Hancock Park (click it for the bigger picture):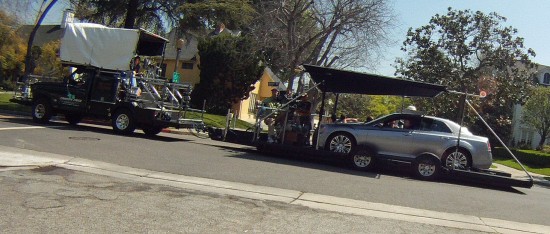 The work that goes into making fun… man!
I was too far away for the camera to allow you distinguish who was behind the wheel, but I recognized the actor as Emily Mortimer who costars on HBO's "The Newsroom."
As to what was being shot? Well, according to her IMDB page her current project is a comedy series called "Doll & Em," which is billed as an "intimate, funny portrait of female friendship set against the backdrop of Los Angeles."
So just call me Access Hollywood.
The cool thing was that the sight of me on my bike dutifully waiting for the rig to pass caught her attention, too. Eyes on the road, Em. Eyes on the road!