This Sunday is the next CicLAvia, in which a route through the city is closed off to motor vehicular traffic and open only to the wide variety of self-propellers: cyclists, walkers, joggers, skateboarders, skaters, and the like.
I'm looking forward to this one in particular because of a couple firsts. The first first is that the course is brand new, spanning between downtown and the beach mostly via Venice Boulevard (click the graphic below for the bigger picture).
The second first is that contrary to every one of the past five CicLAvias I've participated in, I actually don't have the day to myself and instead have someplace to be. Fortunately that place is down South Bay way and thus I'm relieved that I can avoid missing my first CicLAvia by incorporating it part of my overall roundabout outbound commute.
Specifically, I have to be in Hawthorne by 1 p.m. ready to participate in an spcaLA-offered beginner dog training class. So my plan is to roll downtown around 9 a.m., and just get meandering west until I arrive at Venice and then make my way around the marina and across Ballona Creek onto the bike path that winds its way alongside the sand out of Dockweiler State Beach. From there I'll bail inland and back onto the streets via Imperial Highway, working my way onward via a staircase of eastbound/southbound/eastbound/southbound streets until I arrive at my destination, like so: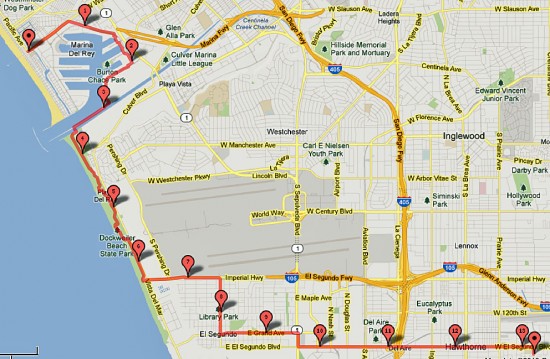 Depending how I'm feeling about pedaling the entire distance home afterward, I may head up Crenshaw to Leimert Park and roll back home across the basin, or I'll just ride the rails back into downtown by intersecting with a Green Line train to the Blue Line (perhaps working in a stop at Simon Rodia's Watts Towers since I'll be in that area).