So there was this post recently to the EastsiderLA blog about a coyote trapping this past July in Silver Lake that went horribly wrong. A property owner, reportedly after some sort of  "coyote vs. dog" incident, had contracted with a trapper who set up a snare in hopes of catching the predator. Well, the snare, which was reportedly was supposed to catch the coyote by the leg wound up around the coyote's neck for a prolonged period and there ended up being heartwrenching video made of the efforts by Animal Control personnel to free the exhausted and injured animal… which died about a week later.
What follows is the comment interchange in the thread from that post between myself and "skr," another EastsiderLA blog reader, and it began after my response to another commenter, "slm," who I disagreed with when he or she referred to the tragedy an "unfortunate accident." After that "skr" asks me a question that I answer sincerely — and with a supporting graphic! I had the feeling that the question was posed not in search of knowledge but in search of an argument and soon we're off to the debate between myself and what's essentially a coyote demonizer, whose half-baked rebuttal to my call for property owners to put exclusionary methods into effect, is that there is apparently an epidemic of poor and old homeowners either completely without fences or with ones in terrific states of disrepair who just don't have the money or ability to do proactive things proactive like reinforce their perimeters, keep their pets inside, and otherwise eliminate/minimize whatever is causing the coyotes to breach their yards.
His reactionary solution is basically for the city to contract a force of on-call riflemen to roam the city shooting any and all "problem" coyotes on sight (and to this guy a problem coyote is any coyote). Ironically, he proposes this expensive — nevermind horribly violent and potentially unsafe — solution after deriding the Animal Services Wildlife Officer in another separate comment for wasting taxpayer money making the valiant effort to free this coyote from its cruel capture.
So without further preambling, here ya go:
slm: This is quite saddening. However, a word for all those feeling outraged at the cruelty. I'm pretty sure the noose is supposed to trap the animal by the leg in this type of trap, and this outcome was an unfortunate accident.
Will Campbell: The hiring and compensating of an alleged professional trapper using methods that resulted in the horrific destruction of the coyote is "unfortunate" to put it mildly, but not an "accident" by any stretch of the imagination.
This would not have happened had sane and humane ways been employed to exclude coyotes from the property.
skr: How exactly are you supposed to exclude coyotes that can easily scale a six foot fence which is the maximum fence height allowed by code?
Will Campbell: Excellent question, skr: An effective device to aid in preventing coyotes from scaling fences are known as "Coyote Rollers," which mount at the head of the barrier and prevent the coyote from being able to grab onto the top of it.
skr: At $7/lnft uninstaled [sic], not many can afford those unfortunately.
Will Campbell: I got the sense you might either be asking rhetorically and you'd find a way to fault my response. You asked "How exactly how are you supposed to exclude coyotes that can easily scale a six-foot fence?" and I gave you the answer to it. Had you asked "How exactly how are you supposed to exclude coyotes that can easily scale a six-foot fence but not spend $7/lnft uninstalled?" I'd encourage you to DIY a similar and effective and far less costly system using brackets and PVC pipe as illustrated below.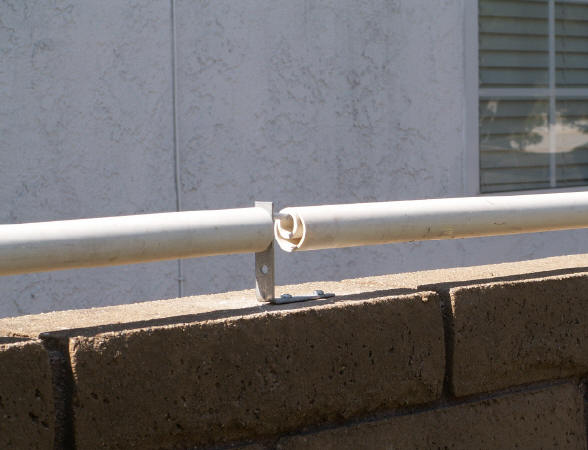 skr: I found fault with your suggestion because it increases the already high cost of fencing by about 50% and it was presented as such an obvious and easy solution even though it is out of reach of many people. Especially compared to trapping and killing predatory vermin. Plus there is also the even more common problem of coyotes going under fences, which necessitates trenching around the property and installing fencing below grade. That is extremly expensive. It's a lot easier to tell people they should just humanely exclude coyotes than to actually exclude coyotes.
Will Campbell: I didn't present it as an "obvious and easy solution." You asked for a remedy and I showed you a remedy. And then when you balked at that I propose a DIY alternative suggestion that would drastically reduce the costs involved. Yet from out of nowhere you opt instead to suddenly look to the bottom of this hypothetical fence and bemoan the dollars that would be involved in hypothetically reinforcing that.
Well, here's a no-cost solution to prevent having to [do] that: Whatever is in your backyard that's attracting the coyotes, whether it's pets, garden veggies, fallen fruit, trash, chickens, raw hanging sides of beef, or any other sources of food or water or shelter: eliminate them. Then the coyotes will leave your neighbors' swiss cheese fence alone and trouble people like you who'd rather just shoot the creatures while criticizing Officer Greg Randall for doing his job.
But you're absolutely right in that it's easy to offer solutions. As you've proven, easier still is it to shoot them down. Repeatedly.
skr: I don't have coyotes in my property because I trenched around the lot and placed fencing below grade and filled the trench with broken concrete rubble. That plus some electric fencing works great. what I do have are elderly neighbors on fixed incomes that simply cannot afford the measures you suggest and are physically incapable of DIY solutions. I have neighbors that can't afford fencing let alone the expensive solutions you suggested. They have small children like the one that was almost dragged into the bushes recently by a coyote in the cemetary [sic]. The solution in that case was to shoot three coyotes in the cemetary [sic]. You seem to not care about the most vulnerable in society. There is a solution for these vulnerable people available to city services, coyote population control. For those with the means your solutions are good ones, but they simply don't comprehensively address the needs of all those living in high coyote danger areas.
Will Campbell: You're quite the double-sided coin, skr. On one side you complained sarcastically in another comment about Officer Randall coming to the aid of this coyote and it being a waste of city services and taxes. But in a complete flip from that stance you, being this champion for the elderly, infirm, and poverty-stricken masses who are apparently terrorized by the creatures and who are unfortunately unable to either have a fence let alone make it predator resistant, want to devote those stretched-thin city services and tax dollars to what you call "coyote population control" — a "solution" that doesn't "comprehensively address" the issue because it has NEVER worked.
For as long as humans and coyotes have been adversaries, humans have attempted to control coyote populations either by outright extermination attempts or by much smaller culls. Well guess what: The result has been the coyotes not only surviving those ill-conceived, short-sighted and reactionary efforts, but thriving.
So you go ahead and cite that rare "coyote attacks child" incident as reason enough for loading up the firearms, marching into battle in a cemetery and killing three of them. Felt good, didn't it? Yeah, you really showed them who's boss. Trouble is, you know what the surviving coyotes did after losing those three? They went and "comprehensively addressed" their needs by making five more that looked just like the ones you destroyed.
I have to chuckle at your accusation of me of not caring about the vulnerable in society because I have [the] audacity to promote effective precautionary measures that are sane and humane. It's funny because to protect those vulnerable of which you speak, you'd rather use deadly force and send bullets flying through the city to cure the "coyote problem." It's not a coyote problem. It's a people problem. People like you.
Bottom line: You've got your way of wanting to deal with coyotes, I've got mine. But here's the reality check: the city of Los Angeles is a faaaar cry from that farm you grew up shooting everything that could potentially harm your assets. As such your way of dealing with coyotes is never going to happen. So you can sit behind your reinforced electrified fence and keep shaking your fist and yelling for the right to shoot the varmints on sight and get nowhere. OR, you can adapt toward a more productive way of thinking that in the end can be of benefit to those less fortunate than you. Your call.
And if you need a lesson on adapting, look no further than the coyote who's a master at it.
skr: Yes, the coyotes survived the culls. They even thrived. But they were less likely to cause harm to those in urban environments because there was food to go around and they didn't have to venture into people's backyards to avoid starvation. Those that can afford to exclude coyotes should. But exclusion is not always effective and the excluded coyotes just end up in the yards of people that can't afford exclusion. They don't deserve to bear the burden disproportionately just because they can't afford more extensive measures. That is where a cull comes into play. Now since this is an urban environment, it is obvious that simply letting everyone pick up rifle and start shooting is untenable. However, that is not the only way to cull a population. High caliber air rifles wielded by licensed and insured shooters can be effective in an urban area. Those shooters would know to only take shots when there is a sufficient backstop to insure safety. A cull can be done safely and with a minimum of expense. Just like we don't have to eradicate the coyotes, we also don't have to let them run wild and do nothing to control a dangerous population. Both of those solutions are at the extreme ends of the spectrum.
With regards to city expenditures, you can try to paint me as being hypocritical all you like. All I'm saying is that I think it is a waste of money to try to save an animal that belongs to a wildlife population that needs culling. If they want to spend money culling the population in order to protect life and property, I'm all for that. Spending money to endanger life and property, not so much.
Killing an animal never feels good. That is why we would always try to make it as clean as possible and didn't use traps. However, regardless of how bad it sucks to kill an animal, sometimes it is necessary.
Will Campbell:Â TRY to paint you as a hypocrite? You're the one holding the brushes; with the one in your left you derided and dismissed the job Officer Randall did as a waste of your taxes, and with the one in the right you're calling for more of those taxes to go to fulfilling future city budgets that will include a contracted cadre of "licensed and insured shooters" roaming our streets with high-caliber air rifles taking out any coyote with impunity, providing it can be put down only if a sufficient backstop is present, of course.
You're right that destroying an animal never feels good — and you're right that it is sometimes necessary. But your idea of making it "clean" relates to reactive and ultimately ineffective killing, while my idea of making it clean relates to proactive measures that will reduce negative contacts with coyotes and certainly prevent the horrific results such as the incident central to this post.
Since we're going around in circles now, let me just copy and paste a modified version of what I closed my previous reply, and then sit back and await whether you agree to disagree or feel compelled to submit another counterpunch:
Bottom line: You've got your way of wanting to deal with coyotes, I've got mine. But here's the reality check: the city of Los Angeles is a faaaar cry from that farm you grew up shooting everything that could potentially harm your assets. As such your way of dealing with coyotes is never going to happen in so densely an urban environment, one in which the coyote is seen as an integral part of the urban wildlife foodchain, and not myopically as little more than a predatory threat. So you can sit behind your reinforced electrified fence and keep demanding the city start using deadly force against them, or, you can recognize the futility of that mindset and instead adapt toward a more productive way of thinking that in the end can be of benefit to those less fortunate than you. Your call.
More to come? There may be an update to this post if "skr" can't
resist the compulsion to make some sort of deflective response.