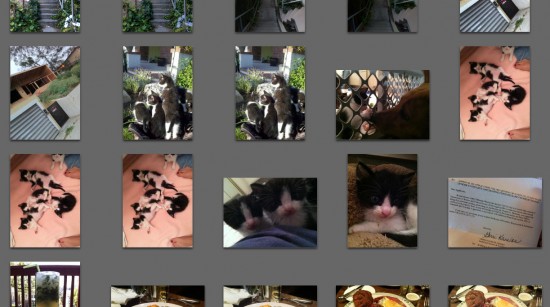 A couple days ago, as I do on a basis sometimes more semi-regular than regular, I dumped all the photos accumulated on my iPhone onto my desktop's iPhoto program. Except this time some of the image being imported weren't my photos, namely those eight above that feature a passel of black-and-white kittens, taken Friday, May 11, specifically between 11:13 and 11:23 a.m.
No, seriously: I did not take those. I've never even seen those kitties or know anyone who is raising such a crew of cats. Most certainly I can assure you that I DO NOT paint my toenails as can be seen on the feet of perhaps the photo taker in that triplicated groupshot snap in the middle of the bunch.
Though Susan probably wouldn't ever borrow my phone much less know how to take a picture with it, I asked her if they were her pics and she said they weren't.
So how the hell did these snaps get on my iPhone? I do remember on the same day these pictures were taken, some status updates suddently started showing up on my Facebook page via my iPhone's Facebook app that I didn't do — odd two-letter combos like "Rw" — and I quickly reset my password. Could the two anomalies be connected?
This is krazee.