So we're all set for a journey this summer that's going to begin by flying up to Redding and renting a car. We're making a point of first climbing up to the top of Castle Crags outside Dunsmuir (something we attempted but didn't complete when we were up there for Thanksgiving in November 2004) and then enjoying the best tri-tip sammiches and vanilla lattes in the world at Dunsmuir's Brown Trout Cafe before getting our move on and road-tripping it up across Oregon and Washington and across the weeeeee thin part of Idaho into Montana near Troy where Susan's grandma and uncle live and where we'll be celebrating the Fourth of July. Then we'll track back south through Yellowstone, Grand Tetons, Arches, Bryce and Grand Canyon national parks in Wyoming, Utah and Arizona — and points in between and beyond — before coming back home to California.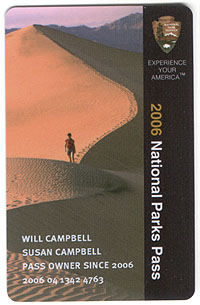 Since we'll be visiting so many of them I got us an annual National Parks Pass just for the occasion.
But before all that I plan to spend this coming Memorial Day weekend 1) hiking with Susan to the highest point of Death Valley, and 2) turning 42.
Telescope Peak is 11,049 feet high and getting to the top of her is something I've wanted to do since my first trip to Death Valley in February 2002. Now, it's not like I've done everything that Death Valley has to offer and this will be the crown jewel or anything. Faaaaar from it. I've had my fair share of adventures out there, but at 3.3 million acres I've got a long way to go before I chalk up everything the park has to offer. It's just that in all my visits over the past four years, whether it be from Badwater, the Devil's Golf Course, Furnace Creek or the Panamint Valley, I've had occasion to glance up at that mountaintop hundreds of times, but I've never had the time to go there.
So this time, that's all we're doing. No Racetrack Playa, no Eureka Dunes (we'll save that magnificent sand castle for next November), no Titus Canyon, no Zabriskie Point, no hiking the dunes near Stovepipe. None of that. Instead we'll be driving in May 27 straight up Wildrose Canyone Road to the trailhead at Mahogany Flat Campground above the charcoal kilns, pitching our tent and kicking back the rest of that day away at 8,200 feet. Then on May 28 we'll have an early breakfast and get going in time for lunch at the top and dinner back down at at camp. Perhaps there'll be cake. The next morning at 7:08 a.m. I will officially leave my 41st year behind and begin my next one. Sometime after that we'll break camp and come on back to civilization.