Having been woefully without internut access since we entered Yellowstone National Park on July 5, on the way out of Arches National Park outside of Moab, Utah, this morning I'd been planning on catching you all up about the stuff we saw (like this) and did with the distant hope that I'd be able to logon tonight from our cabin at Cliff Dweller Lodge beyond Vermillion Cliffs north of the Grand Canyon in Arizona.
Well lookee here, the internut hath shined its signal down upon me out here in the Arizona booneys… but all that bosh I'd planned to bore you with will have to wait. Because early this afternoon after a glorious sidetrip through Natural Bridges National Monument then cruising through the Valley of the Gods, we rounded a bend a few miles outside the town of Mexican Hat, Utah, and a few miles inside Monument Valley in Navajoland country and spotted two abandoned puppies perhaps no more than six to eight weeks old lying helpless at the edge of a small patch of dirty standing water just off the roadside, exactly like this sans chiens:
The pair were were on the right edge of the puddle there and Susan and I were helpless to do anything but pull over and come to their aid. What we didn't realize is that there was a cardboard box next to that trash-filled white plastic bag seen near the center of the shot above and it had two other pups in it.
Though they looked pretty well fed, all of them were in pretty bad shape, owing to the fact that they'd been dumped like garbage along a 65 mph highway in the middle of nowhere in 90-plus-degree temperatures only god knew how long ago. Several hours? That morning? The previous night? Mud-caked and dirty to varying degrees, severely dehydrated and overheated, it was right then and there that our marvelous vacation took on the added component of a rescue operation, and we loaded all the dogs up in the box and shuttled them to the shade provided by the back of the rental where we hastily rearranged luggage and then cut a gallon water jug into a more pup-friendly and accessible bowl size. While Susan began administering water to them I did a sweep of a broader area just to make sure there weren't any more who might have wandered away from the littered litter… and also because the tears started flowing and I wanted to keep them to myself for the time being.
I have to be honest here, while I was looking around I did my best to give the perpetrator of this so heinous and heartless an act of inhumanity the benefit of the doubt. I tried hard to consider the rampant poverty suffered by many in the vicinity and really gave an attempt at understanding such callous desperation the old college try.
I failed miserably. With the waterworks going full blast it was all I could while looking through the shoulder scrub to not scream my lungs out cursing whoever the demons were who could do such a soulless thing.
And for a split second I envied them. I was almost jealous of their hard hearts and wished that Susan and I could have just kept on driving.
But of course we couldn't. Of course my heart is not hard. It is soft and strong with love. At the core of my being I am someone who will never fail to accept the burden of benefitting something so helpless and so close to death. And so is Susan.
Satisfied that there were no other pups in the area — at least none alive, I came back to the car and Susan and I worked to get them situated and comfortable and our plan was to find a market to get some dog food. Fortunately there was a store, Gouldings, only a few more miles down the highway and we were very pleased to see all had strong appetites not only for the can of Mighty Dog I opened but also for the dry puppy food — most especially the littlest one of the bunch who had been unwilling to take water and seemed the worst for wear.
Sadly, the allure I held for Monument Valley, site of some 16 films of John Ford such as The Searchers, She Wore A Yellow Ribbon, My Darling Clementine and Stagecoach, was gone in an instant. I had been so looking forward to seeing this glorious stretch of land and playing tourist around the various sites such as actual locations and perhaps the very cabin John Wayne stayed in during some of the films he made there. But now as we headed out with our four new passengers heavy on my mind, the best enthusiasm I could muster was to snap shots on the move through the windshield of some of the valley's geological monuments.
To their credit and because of their exhaustion, they took to the back of the car beautifully. Occasionally Susan and I could hear crunching of the kibble we'd left out for them and towards our approach to the end of today's journey a couple even climbed up on my duffel to peek over the back seat at us.
The next dilemma was how to handle their board at our destination, the Cliff Dweller Lodge. Do we sneak them into the room or do we go the upfront route and ask them about their pets policy. Well, thanks to the terse and almost unpleasant clerk who checked us in, we opted to go covert and just box 'em up and bring 'em inside. As you can see from the picture below, all four adorables had gotten back some of their energy and enthusiasm once we got them to the room: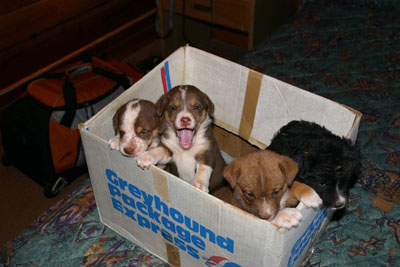 And I'm thrilled to report that after Susan and I had dinner we returned to find them settled in quite nicely: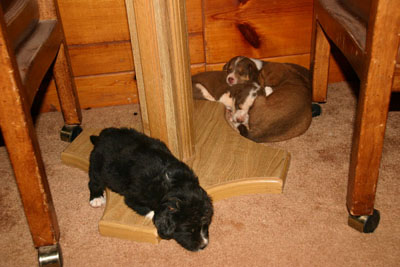 In the time it's taken me to write this post, they've awakened and moved about the room and I've cleaned up after their pees and their poops and I've watched them with tears welling up in my eyes as they've wrestled in various pairings and snacked and drank and nibbled on my ankles and played tug o' war with an old shirt and fallen asleep on my feet or on each other or both.
All of them twitch in their sleep. Bad dreams no doubt, but hopefully growing dimmer as they come to understand we are their champions and their guardians and only goodness and mercy will fill their days from now on as we bring them home with us and find them people who will give them good and loving homes.
It will be touch and go these next several days as we juggle caring for the animals with seeing the sights. After tomorrow's excursions to the north rim of the Grand Canyon in hopes of seeing any of the 60 or so California condors who call the nearby Vermillion Cliffs home, we have two nights on the south rim and then we're going to forego a night in Needles and instead arrive home July 14 after making the long drive in with perhaps a detour along the old Route 66 on the way.
Right now one of the three brownies is asleep atop my left foot. The runt is sacked out on my right and that ankle is bookended by the blackie and the other brownie.
And my eyes are brimming. Again.