Archive for July, 2011
Thursday, July 21st, 2011
The second time in my life that I biked up and over the Sepulveda Pass was last weekend during my Autocalypse Now Ride. The first time? Waaaay the hell back in 1991. I remember it well because it was a rather epic ride. The woman I was dating at the time had decided to go to the beach in Santa Monica with her daughter, and since I'd already been planning on biking from my apartment in Glendale to a morning softball game in Sherman Oaks, I thought what the hell and decided to bike the rest of the way to the sea.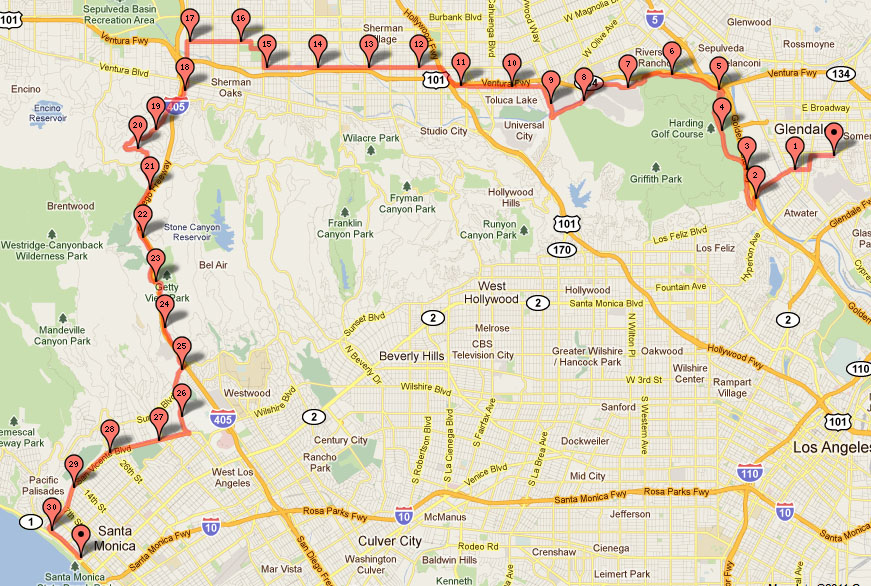 Think about that for a second: Glendale to Sherman Oaks to Santa Monica. Roughly 31 miles. With a league softball game in the middle. Twenty years ago. Pardon me for crowing a bit about it.
Of course the trek was predicated on my crossed-fingered hope that I would somehow be able to locate my girfriend on the crowded sands somewhere between a pair of predetermined lifeguard stations. If so, I could throw the bike in her trunk for a drive home. If not, it was going to be a long and exhausting ride back to Glendale.
Much to my relief I found her. But that successful conclusion is not the point. The point is that from a bicycling perspective of Sepulveda Boulevard between the two decades that separated my riding it, we've come a long way, baby. Both literally and figuratively, with some of it good and some of it leaving a helluva lot to be desired.
When I got on my bike last weekend, the vast majority of the ride from Silver Lake to the top of the Sepulveda Pass was done over a nice mix of Class I bikeways and Class II bike lanes. We had the LA River and Chandler bikeways connected mostly by the Riverside Drive bike lanes. Then the Chandler bike lanes to the Orange Line Bikeway. South of Ventura a bike lane's been laid down almost to the top. And that bad little bit o' almost is what I want to focus on.
But before I do, in salute to the good that's been laid down, let's remember that in 1991 there was no LA River or Chandler or Orange Line bikeways. There may have been a Riverside Drive bike lane, but there certainly wasn't a striped lane on Sepulveda.
So I was cheering and marveling all along that first 27 miles from Silver Lake up through Sherman Oaks, but I quit rah-rah'ing just as we were arriving at the three-lane Sepulveda Tunnel when the bike lane abruptly ended, leaving me entering the tunnel with fellow rider Ann past a dark signal light above a Bike sign which hung above an  "In Tunnel" sign (at left, click to enlarge) and wondering what confederacy of dunces decided such an apparently malfunctioning after-thought would suffice in protecting cyclists when they are at their most vulnerable/least visible.
Inside the tunnel I saw there was a sidewalk to our right to desperately bail out to if needed and I reached back to turn on my rear flasher to provide some type of increased visibility. But about midway through when a procession of vehicles (including an MTA bus, several passenger vehicles and a Super Shuttle van) entered the tunnel behind us, I moved to the middle of the No. 2 lane and decided to forsake any coolness by augmenting my rear light with some serious flapping and waving of my arms in hopes my funkily animated silhouette might draw the drivers' eyes before they were right on top of us. With two southbound lanes all vehicles cleared us smoothly, except the van which somewhat unnervingly got to about 10 feet behind me before it got a chance to change lanes.
Note: It's distressing times like that when wheeljockeys blithely steering thousands of pounds of steel up my ass  that I wish I had a double-barreled paintball gun with which to level at their heads and splatter their windshields.