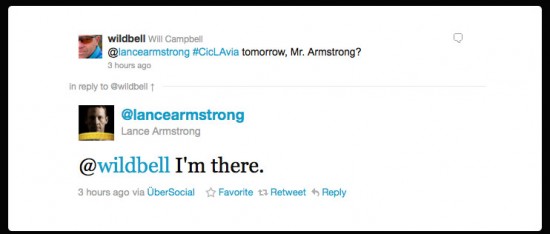 The night before the CicLAvia that took place in April 2011, I had heard that Lance Armstrong was coming to town specifically to participate. As such, I tweeted a reminder at him and was positively fanboy-floored when he immediately tweeted a confirmation back my way.
But then again, given what we know now about his long-running penchant for dishonesty, since I didn't physically SEE him anywhere on the course the next day I can't be 100 percent certain he wasn't lying out of his spandex-clad ass.
One thing is for certain: this brief exchange went from being my most favorite tweet ever to my least.
It wasn't the first time I rode/sat/stood in awe of my hero Mr. Doodyhead McLiarface (and there was also this previous encounter during the 2009 Amgen Tour of California). But it is the last: